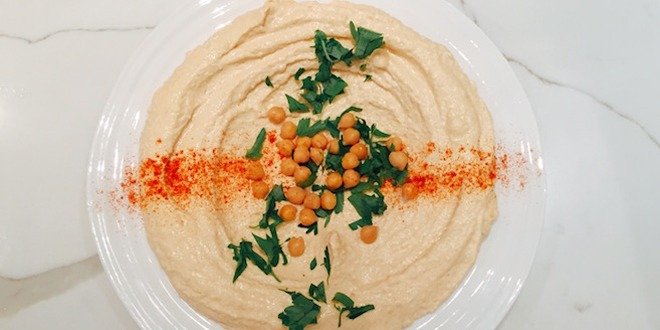 This hummus is incredibly creamy from the tahini.  Spread the hummus on a round plate, drizzle with olive oil and sprinkle with paprika if you like!
INGREDIENTS
1 (15 oz) can chickpeas (garbanzo beans), drained and rinsed
1-2 cloves fresh garlic
½ cup tahini (also called sesame paste)
Juice of 2 lemons
1 tsp fine sea salt or regular table salt
½-1 tsp ground cumin, or to taste
¼ tsp cayenne powder
½ cup cold water or more as needed
For drizzle: 2 tbsp olive oil, paprika
DIRECTIONS
Place chickpeas and garlic into the bowl of a food processor fitted with a metal blade. Process until chopped.
Add tahini, lemon juice, salt, cumin, cayenne powder, and mix.
Drizzle in water. Process again. Add more water and lemon juice as needed to thin the hummus to desired consistency.
Drizzle with olive oil and paprika.
Serves 10