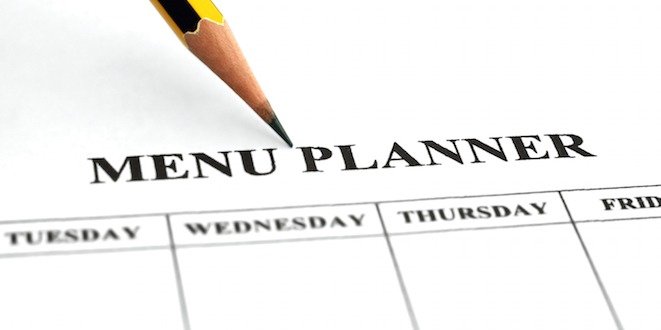 As our lives get busier and our hectic schedules make it necessary to rely on quick and easy meals, the key to less stress and healthier eating is to take the time to do some meal planning in advance. 
How many people actually plan their meals in advance?
For a person living with diabetes, having a busy schedule can hinder attempts to make good food choices and fit in time for other important things, such as exercise.  A survey conducted by the Dietitians of Canada showed that only 37% of Canadians plan meals in advance, and just over half of us report that we "always" or "very often" cook a balanced meal.
Why should you consider meal planning?
Planning meals for a busy week doesn't have to be a difficult task. The time invested to do the planning will actually save time in the end. Meal planning prevents unnecessary trips to the grocery store, and avoids the daily decision of what to have for dinner. Going home at the end of a busy day without having made a meal plan can lead to surrendering to less healthy options or possibly delaying the meal. Delayed meals can result in extra snacking or missing the opportunity to fit in some physical activity.
Planning ahead for quick and easy nutritious dinners at home allows for more control over the food portions and the ingredients that go into them. The good news is that a healthy meal plan for diabetes is the same as a healthy meal plan for everyone else in the family.
How to start planning for a week's meals

Make a list of your family's favorite dishes. Involve other people in the family to help with preparation, especially with the meals they particularly enjoy.
Record your meal plan ideas. Using the meal plan, create your shopping list and stick to it. Don't forget to plan for snacks on your meal plan too.
Use Canada's Food Guide to help you plan balanced meals and eat a variety of foods often, including vegetables and fruits, whole grain foods and protein foods.
Look at the activities planned for the week. What nights will require a quick meal? For those busier days of the week, plan for meals that don't take too much time to prepare and cook. Focus on the main dish and serve a salad or vegetable that can be made ahead. Pre-washed and cut salads or pre-chopped vegetables are great shortcuts available in most grocery stores.
Plan for variety. Include foods (especially vegetables) of different colours in your meal plan. Imagine how the dishes will look together when planning. Focus on foods that your family likes. If potatoes or rice are part of the meal, green broccoli or orange carrots will make the plate more appealing.
Another way to add variety is to plan for different cooking methods. Quicker cooking methods could be used on the busier days, and meals that take a bit longer to prepare – that need roasting or stewing, for example – could be used on the less busy days. Some ideas for quicker cooking meals include "breakfast for dinner", sandwich and salad, or stir fry (especially if the prep work is done in advance). Prep work, such as cleaning and chopping vegetables on your less busy days, can make a huge difference!

Try to have a meatless meal at least once per week. Meatless meals can often be quicker to prepare.
Plan for left-overs – deliberately prepare larger quantities of key ingredients that could be incorporated into other meals during the same week. Left-over mashed potatoes will be great for Shepard's pie and left-over chicken makes fajitas a quick meal to prepare.  This is a smart way to be more efficient and to save time and energy.
If you have a slow cooker, use it to do the work for you during the day. Just add a salad or other quick side dish and dinner's ready in a flash.
Cook once, eat twice. Consider "batch cooking," to make the best use of your time in the kitchen, especially if you have extra time on the weekend. This means cooking and baking in large quantities and freezing portions for future meals. Divide the food into batches that can be eaten in one meal. Package, label and freeze for another day. Lasagna, soups and chilli work well with batch cooking.
Eating healthy requires an investment of time to plan, shop and cook. People with diabetes are just as busy as anyone else and have a greater reason to make healthier food choices. Taking a few moments of a busy week to focus on meal planning will result in the benefits of healthier food choices and a less hectic week.