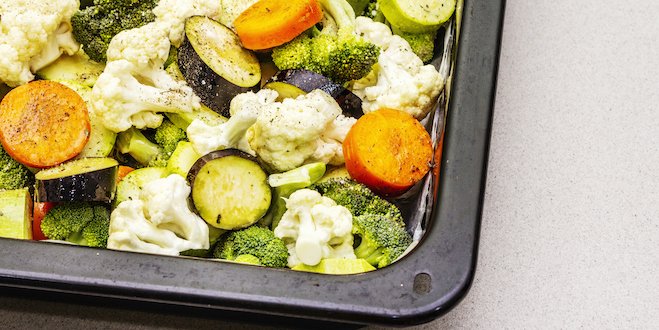 Following a healthy eating plan doesn't have to mean spending extra time and effort in the kitchen. We've gathered a great list of kitchen shortcuts for the diabetes diet…easy peasy!
Get equipped with kitchen 'helpers'
Take advantage of gadgets and products that are specially designed to cut the time and work of meal preparation.
The first big one in this category is a microwave of course. It's brilliant for steaming veggies and fish, in addition to heating up previously frozen meals. Just use a lidded microwave-safe kitchen dish. Depending on the vegetable being steamed, you may need to add a tiny splash of water to the dish.
Another fantastic kitchen 'helper' in this category is a slow cooker used for one pot meals, soups, stews and casseroles. Slow cookers allow for one-step preparation since all ingredients go into the pot together. This saves both preparation and clean up time.
A newer kid on the block, and a Canadian invention, is the Instant Pot, also known as a pressure cooker or multicooker. Under higher heat and pressure, things cook much faster. Features of an Instant Pot typically include a pressure cooker, slow cooker, rice or oatmeal cooker, yogurt maker, sauté or searing pan, steamer and food warmer.
Another recent development for those wanting to make changes towards a healthier diet, is the air fryer. This is essentially a small countertop convection oven designed to simulate deep frying without having to submerge the food in oil. Switching from deep-fried foods to air-fried foods and reducing regular intake of unhealthful oils can promote weight loss. When used according to manufacturer's instructions, they are safer than frying in deep volumes of hot oil.
Buy pre-prepared vegetables and fruits
Most supermarkets now offer a wide variety of pre-prepared vegetables and fruits. These included pre-packaged salads and pre-chopped and rinsed veggies, fruits and berries. The pre-chopped veggies can be steamed with no preparation required on your part. And the salads and fruits can go straight to your plate as-is.
Bake (or roast) instead of frying
Baking or roasting is not only healthier than frying, it's also easier on the cook! When you fry foods, you have to stand over the stove, constantly watching the fry pan and moving the food around so it doesn't burn. In contrast, you can place a chicken breast on aluminum foil or parchment, for example, and leave it in the oven to bake or roast while you get on with other things. Poultry, fish, meats and even tofu are all well suited to baking or roasting.
You can also use foil or parchment packets to oven-steam vegetables. Just splash your veggies with a dash of water or stock before sealing in packets. You can also roast sweet potatoes and most veggies easily and conveniently on a cookie sheet lined with parchment paper. Just season and add a splash of olive oil. If you like garlic, it makes a wonderful accompaniment!
You can also combine both a protein and veggies on a cookie sheet to reduce clean up and preparation time. Try our sheet pan Greek chicken with loaded veggies.
Stock up with convenient foods
Notice that we say 'convenient' and not 'convenience' foods. 'Convenience foods' is a term usually given to processed, pre-prepared foods, which are often high in unhealthy salt and fats, and may have a lot of added sugar. 'Convenient foods', on the other hand, are regular healthy foods carefully selected for their ease of preparation. Let's looks at some examples that are good to have on hand in your pantry.
Cans of tuna, salmon and sardines are high on this list. All are versatile and healthy and can be eaten uncooked or in a wide variety of cooked recipes. Buy the cans that are 'packed in water' where possible.  You may also want to add cans of beans and pulses to your cupboard. Rinse before using to remove any unwanted salt. And don't forget frozen veggies – they are as healthy as fresh and are easy to prepare.
When buying dried pasta, look for the thinner types for speedy cooking. Angel hair pasta, also known as capellini, is perfect in this regard. It literally cooks in four to six minutes. Look for whole grain varieties where possible. Whole grain pasta may take marginally longer to cook than the white counterpart, but it is much healthier.
Whole wheat couscous is another speedy way to fill the carbohydrate portion of your plate. Again, it is ready in literally minutes. Mix cooked couscous with a pre-packaged salad and a dressing made from a splash of red wine vinegar or lemon juice with olive oil, plus a serving of tuna, salmon, chicken or tofu. It makes a tasty, healthy and wonderfully easy meal.
Get more information on healthy carbs in our expert dietitian's great article on this site: Carbs and Healthier Carbs. You will also find more tips and ideas to help with the diabetes diet in our article Tips for stocking a diabetes-friendly kitchen.
Quick tip –You will find some fantastic overall healthy eating tips in our video on this site: Healthy eating for people with diabetes.