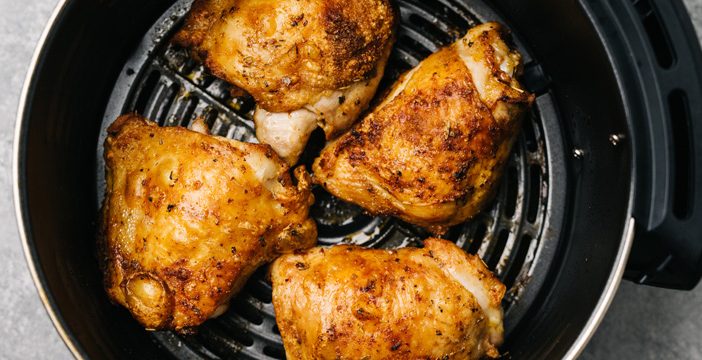 Do air fryers fit into a diabetes diet?
Dreaming of French fries and crispy chicken? Fried foods aren't usually part of the meal plan when you have diabetes, or at least they aren't recommended. But can air fryers make fried foods a better fit for your diabetes diet. If you're thinking about investing in this popular kitchen appliance, here are some things to consider about air fryers when you have diabetes.
What is an air fryer?
About the size of a coffee maker, an air fryer operates somewhat like a conventional oven. Once you put food in the air fryer basket, a fan circulates heated air around the food to quickly cook it. The circulating air cooks the outside of the food first making it crispy, while keeping the inside soft to resemble the texture and taste of deep-fried foods.
But unlike regular ovens, air fryers heat up and cook food very quickly, due to their concentrated heat source and powerful fan. There is zero or minimal preheat time needed.
Foods in an air fryer need only a little oil to prevent sticking. In fact, one tablespoon of oil in an air fryer will achieve similar results to using several cups of oil in traditional frying methods. A container below the basket in an air fryer catches droplets of grease/fat, for an even healthier results.
What can I cook in an air fryer?
Anything you could potentially fry can go into an air fryer. That means meats, fish, onions, cheese, dough, tofu, potatoes, brussel sprouts, broccoli and other vegetables. These devices can be used to heat up frozen foods and cook all sorts of fresh foods too. However, avoid putting flour- and wet-battered foods in an air fryer, as they generally don't cook well with this method.
One tip for healthier air-fried potatoes is to steam them first so you can cut down on oil even further. Just be sure to season the potatoes before putting them in the air fryer basket. Keep in mind that spices can can add a big flavour boost to foods, without the calories too.
Do air fryers fit into a diabetes diet?
We know air frying is better than traditional frying because it cuts down on fat and calories typically added when frying in oil. So, in that sense, air fried foods are the better choice when you have diabetes, especially if you're looking to lose or maintain weight. They're also a great shortcut to home-made meals because they can cook foods quickly.
But even with the benefits of air frying, it's important to limit your overall intake of fried foods for overall health. Methods such as steaming, stewing, grilling, and roasting are still your best options when preparing meals.
What type of oil is best?
Canola or vegetable oil are best due to their ability to withstand higher heat levels. The key is to use only a minimal amount of oil needed to prevent sticking.
Are there other benefits in using an air fryer?
Research shows that air frying can cut down on other negatives aspects of traditional frying. For example, frying starchy foods such as potatoes can produce a chemical called acrylamide, which some studies have shown has been linked to cancer. Using an air fryer to cook potatoes may cut down on acrylamide by 90%.
Air fryers cook food quickly if you're time-strapped, and some have toast and bake settings too.
What are the downsides?
Some meats, cheeses and fish can become less nutritious when air-fried because this cooking method can induce advanced glycemic end-products (AGEs) or aging toxins that have been linked to several diseases and may also accelerate the aging process. People with diabetes are at a higher risk of producing too many AGEs, which can build up in the body.
Research has shown that air fryers can also deplete omega-fatty acids, the 'good fat' in fish. They also raise cholesterol oxidation products (COPs), substances that contribute to heart disease and cancer. One way that has been shown to reduce the production of COPs is to add herbs to fish when cooking, as these act as antioxidants.
Air fryers can also be expensive (higher-end versions can run you hundreds of dollars). They can also produce unevenly cooked, soggy results when foods are overcrowded in the basket.
Final verdict?
While air frying may be a healthier option to traditional frying methods, remember that fried foods in general should be limited, especially when you have diabetes. In following a healthy diet, which is essential for diabetes, eat fried foods in moderation and be sure to use other healthy cooking options such as grilling, roasting and baking too.
Check out lots of diabetes-friendly recipes here.