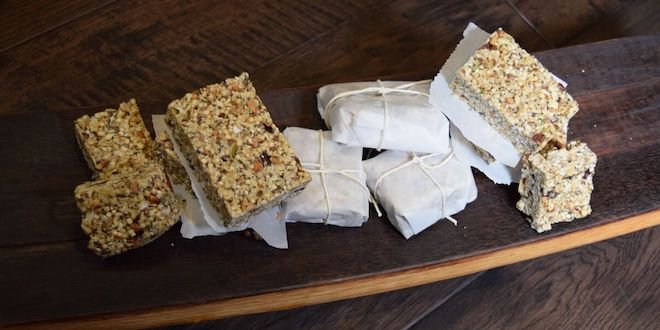 I've been working on the perfect trail bar on and off for years. No refined sugar, just the right crunch and chew (and no banana, that is just personal). Friends… HERE IT IS! If you have a scale, use it and follow the weight measurements.
INGREDIENTS
Dry Nut and Seed Mixture
1½ cup/170 grams large flake oats
½ cup/85 grams raw almonds
2 tbsp/30 grams raw sunflower seeds
2 tbsp/25 grams raw pumpkin seeds
2 tbsp/25 grams raw sesame seeds
¼ cup/40 grams dried, sugar-free, unsulfured cranberries
4 medjool dates, pitted
3 tbsp/25 grams coconut flakes
2 tbsp/20 grams chia seeds
2 tbsp/25 grams hemp hearts
2 tbsp/20 grams whole (or ground) flax seed
1 tbsp/10 grams poppy seeds
1½ cups/35 grams puffed quinoa
¼ tsp flaked sea salt (I use Maldon salt)
Wet Mixture
½ cup plus 2 tbsp./175 grams tahini
½ cup/165 grams honey
2 tbsp/25-30 grams coconut oil
DIRECTIONS
Preheat oven to 325˚F, line a cookie sheet with parchment paper. Also line a square pan (8*8 or 9*9) with parchment, overhanging on all sides.
Place the oats and almonds on the cookie sheet. Place them in the oven for 5 minutes, remove and add the sunflower, pumpkin and sesame seeds to the tray (don't mix them, keep them separate) and cook for another 10 minutes (so that the oats and almonds have a total of 15 minutes).
Let them cool a little, put them in the food processor with the dates and cranberries, pulse them a few times so that everything gets chopped a little, and remove to a large bowl. Add the remainder of the Dry Nut and Seed Mixture ingredients to the bowl, and mix well.
In a small pot, melt together on medium-low heat the wet ingredients, whisking to make it smooth, about 4-5 minutes (it does not need to boil).
Pour the hot tahini mixture over the nut and seed mixture and using gloved hands and a spatula, mix the hot tahini mixture into the nut and seed mixture until it is uniform. Pour the mixture into the prepared pan and press it firmly into the pan. Place in the fridge for a couple of hours to firm up. Lift the parchment/bars out of the pan and cut into 30 squares or bars.
Store in the fridge or freezer.
Makes 30 bars