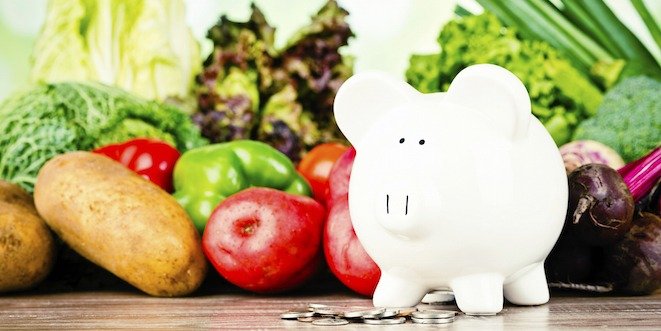 MYTH: Eating healthy is more expensive
FACT: Eating healthy on a budget is possible
It is a common belief that eating healthier foods is more expensive. The availability of inexpensive fast junk foods makes eating unhealthy affordable, but at a higher cost to our health.  People with diabetes and prediabetes have very good cause to make healthier food choices; the prices at the checkout counter of the grocery store should not be a factor in our ability to eat healthier. You can eat healthy and save money too.
Whether or not you have diabetes, taking the time to plan meals is a key part of eating healthy on a budget. It can lead to fewer last minute runs to the local fast food restaurant, make grocery shopping more efficient by purchasing only what you need and ensure that you are eating the right foods.
Along with a bit of planning, cooking on a budget requires an investment of some work and creativity. The return is better health and more money in your wallet. Following a few basic tips can help you eat well without blowing your grocery budget.
Plan the week's menu first and make a shopping list of the foods you will need. Check your cupboards for items you may already have on hand. Be sure to include snack items in your plan. Speak to your dietitian about menu planning ideas for diabetes.
Check store flyers and online for coupons and special deals. Plan to have meals and prepare recipes that include foods that are on special that week.
When they're on sale, stock up on frozen foods (if you have enough freezer space) like frozen vegetables, canned foods like tomatoes or lentils, and dried foods like pasta or rice
Look for "no-name" or store brand options to packaged foods such as no-name pasta, store brand non-hydrogenated margarine, and no-name frozen vegetables and canned lentils. They're often less expensive than name brands and have the same nutrition value.
Cook at home as much as possible. Eating foods prepared at home can lead to great savings in dollars and calories!
Plan meals that include dried peas, beans, lentils, or whole grains and vegetables as the focus and have less meat, which can be more expensive. Soups, stir fries, stews and casseroles are some examples.
Try to have vegetarian meals that use protein sources such as kidney beans, lentils, chick peas, eggs or tofu at least once or twice a week. here is a recipe you may want to add to your repertoire – Chickpea tofu stir fry!
Purchase fresh vegetables when they are in season and buy only what you can use before it will spoil.  Larger bags of vegetables such as potatoes, onions and carrots are a good buy, but it's wasted money if you have to throw some of it away.
Buy milk and yogurt in larger containers. 4L bags of milk are less expensive per unit than cartons. They can be frozen for up to 3 months and thawed in the refrigerator.
When you're shopping at the grocery store, check the "per-unit cost", you'll find it on the shelf labels. This helps you compare prices between different brands.