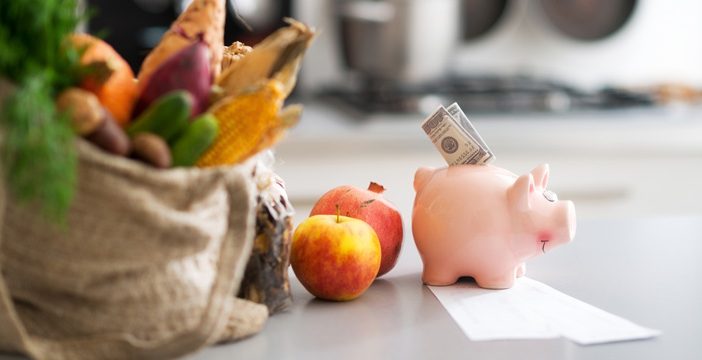 As we struggle to meet rising costs, it's easy to feel overwhelmed by the added challenge of catering to diabetes dietary needs. But did you know that eating healthily can actually cost less? It's a fact! And that's good news for everyone – not just people with diabetes.
Check out these tips for healthy eating on a budget.
Foods to eat more often
High fibre foods! People with diabetes should aim to fill half the plate with vegetables and fruit, a quarter of the plate with whole grain foods, and just the remaining quarter with protein such as meat, poultry, fish or plant-based options such as beans, peas and lentils. This is good news since meats and poultry are the most expensive parts of a typical meal.
Substitute fish for meat. Frozen and canned fish can be inexpensive, and fish is good for your health.
Meat alternatives like legumes (dried or canned beans and peas such as kidney beans, chickpeas and lentils) are good value and can also help to lower blood glucose and cholesterol levels.
In-season vegetables. These are cheaper than vegetables that have to be transported over long distances. Freeze extra for use out of season. Also out of season, buy big bags of frozen veggies and cook only what you need for one meal at a time.
Brown rice. Buy large bags – it's much cheaper.
Whole grain pasta. Buy the most common shapes. Common plain shaped pasta costs less than fancy varieties.
Foods to eat less often
Processed pre-seasoned foods like flavoured rice, canned pasta and frozen pre-prepared dishes. These usually cost more than plain foods, and are often unhealthily high in sodium. Instead, buy un-processed foods and cook from scratch.
Pre-mixed instant hot cereals. Far better – and cheaper – to buy plain oatmeal and add your own flavourings like cinnamon or apple sauce.
Pre-prepared frozen vegetables in sauces or with added flavouring. Instead, buy plain vegetables and steam, grill or roast them.
Pre-mixed salad dressings. Make your own dressings instead in a small mason jar with a tight lid. Use olive oil and vinegar or lemon juice, plus crushed garlic if you like, and shake to mix. You can also make store-bought mayo healthier – and make it go further – by mixing it with a little fat-free sour cream.
Frozen fish in batter, breadcrumbs or sauces. These cost more than plain frozen fish fillets or steaks, and are less healthy.
Planning is everything!
Investing a little time in meal planning can lead to big savings. It is a great idea to draw up a menu for the week. Here are some tips to help stretch the food budget:
Check store flyers. If a favourite food is on special, buy enough to cook for two or three meals. For example, if lean ground beef is on special, make an extra-large chili or spaghetti sauce and freeze in separate containers for future meals.
Plan for leftovers. For example, leftovers from a roast chicken on the weekend can also provide chicken wraps and chicken fajitas or can be used for casseroles, soups and pastas.
Instead of buying high-sodium processed cold meats, use leftover meat for packed lunches. You can add the meat to whole grain pasta and brown rice salads with added veggies. Cold cooked meats or fish are also great in whole grain wraps.
Smart shopping tips
When dry items like pasta, grains and legumes are on sale, buy extra and store for later use. Do the same with canned foods like beans or tomatoes.
Don't be brand loyal! Store brands are often much less expensive than name brands and are just as good for you. Keep an eye on specials too, and buy whichever labels are the best value each week.
When shopping, look for day-old vegetables and breads on the discount stands and plan to use them up quickly or freeze extras.  Never buy more fresh food than you know you will use.
Ask a dietitian for more ideas, and read our healthy eating expert's blog 'One Pantry Fits All'