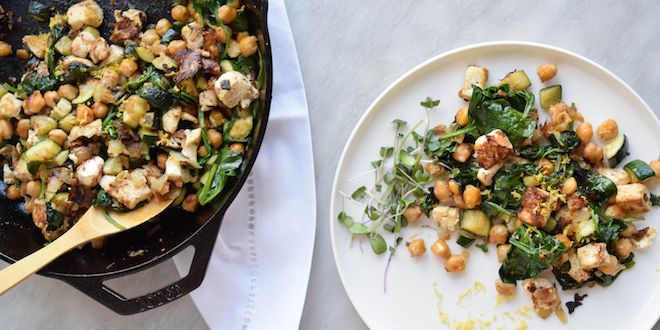 INGREDIENTS
4 tbsp extra virgin olive oil, divided
1 medium size cooking onion (about 1 cup diced)
1 14 oz can chickpeas, drained and rinsed
1 450 gram package of firm or extra firm tofu
2 small zucchini, diced into ½ -1 inch cubes
2 cups of baby spinach
½ tsp salt
Freshly ground pepper to taste
Zest and juice of ½ lemon
DIRECTIONS
Cut the tofu and place it on a paper towel and carefully blot it dry a little.
In a large sauté pan, heat 2 tbsp oil over medium high heat until shimmering.
Add onion and chickpeas and toss with oil. Sprinkle with some of the salt.  Spread mixture over the pan so that the contents are in one layer.  Let cook undisturbed for 3-4 minutes, toss and repeat.  Do this a few times so that parts of the chickpeas develop a crust and become golden brown in spots (the onion will be the same).  Remove to a heatproof dish.
Put the pan back on the heat. Add 1 tbsp more of the oil and add tofu, toss to coat, and cook undisturbed until the tofu has crusted. Toss and allow the tofu to brown on a few sides.  Sprinkle with a little salt.  Remove the tofu and add it to the dish with the chickpeas and onions.
Put pan back on the heat, add the remainder of the oil, add zucchini, toss to coat, and sprinkle with a little salt. Cook until the zucchini is golden brown all over, about 3-4 minutes. Add the spinach by handful and toss until the spinach has wilted a little.
Add the chickpea, onion, tofu mixture back to the pan with the zucchini and spinach, and gently toss through.
Add the zest and juice from one half of a lemon. Gently toss.
Remove to plater, sprinkle with pepper.
Serves 4.