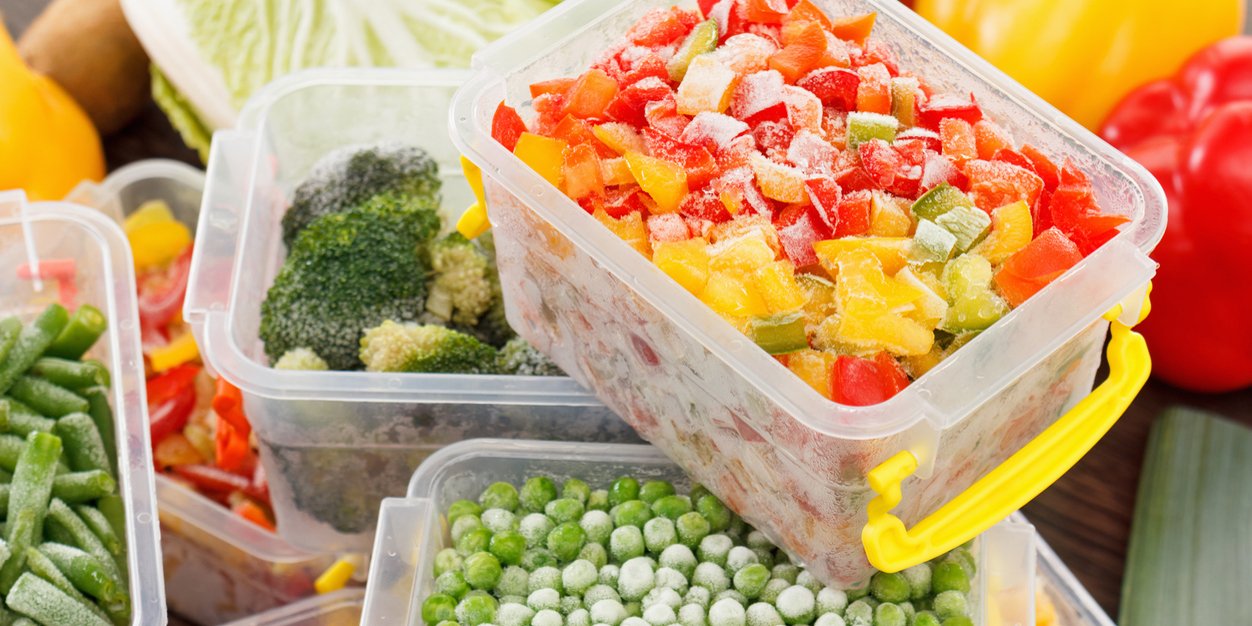 As we find ourselves in the midst of a global pandemic many of us are stuck in our homes for long periods of time. You may be in isolation because you've travelled recently, had contact with an infected person or have suspected symptoms yourself—or you're just staying safe at home to avoid getting yourself and others sick. Whatever the reason, eating healthy is still important, especially when you have diabetes.
Here's a look at how to stock your kitchen with healthy foods to ensure you're eating healthy—so you're not filling up on empty calories and processed foods.
PLEASE NOTE at the end of the article you can download our healthy eating grocery list.

Where should you start?
Before you start grocery shopping, take an inventory of what's in your pantry, fridge and freezer already. Check best before dates and throw out whatever is past its prime. Take note of what you already have (and haven't been using) and make a shopping list to fill in the gaps. For convenience, you can use the grocery list we provide to download at the end of the article. If you're at the store, be sure to check expiry dates so you get the best bang for your buck when buying your food staples.
What should you stock in your fridge?
Load up on long-lasting fruits and vegetables to include in your daily meals. Some good examples are apples, citrus fruits, potatoes, zucchini, carrots and cabbage. Apples and grapefruits can last up to six weeks in your fridge. Onions and garlic are other resilient vegetables to add to your list. They can be stored in a cool, dark space, as well as in your fridge.
Of course, don't forget to stock up on milk and milk alternatives too, as well as yogurts, low-fat cheese, eggs and tofu. Seeds such as hemp and ground flax can last for several months in the refrigerator if stored according to the package directions.
What should you fill the freezer with?
If you're going to be indoors for the long haul, be sure to stock your freezer with plenty of fresh fish/seafood, meat and poultry. If you're buying in bulk and separating items for single use, note the purchase date on each as they are typically good for up to three months in the freezer. Other good foods for the freezer include ready-to-bake pizza and pizza crusts, frozen vegetables (broccoli, brussel sprouts, spinach), and fruit (berries, mango). If you store whole grain, sliced bread in the freezer, you can take out only what you need each time to preserve its freshness.
What should you store in your cupboards?
Having longer shelf-life foods in your pantry is always a good idea. Choose protein-rich options such as tuna, salmon, chickpeas and lentils, as well as nut butters. The pantry is also a good place for whole-grain staples such as oatmeal, rolled oats, brown rice, quinoa, whole-grain pasta and cereals.
You should also consider stocking up on canned vegetables, and fruits in their own juices, as well as unsweetened apple sauce. And keep in mind that shelf-stable dairy and non-dairy milks can be stored for months before opening.
In the unfortunate case that you become too ill to eat, it's a good idea to have some simple carbohydrates on hand, such as jello, jam, honey and hard candies, to reduce the risk of blood sugar lows. Find more information on the coronavirus and how to protect yourself here.
What about snacks?
Just because you're in isolation doesn't mean you have to forgo some tasty snacks. Instead of preservative-filled cookies and chips, however, opt to fill your kitchen with whole-grain crackers, hummus, nuts, roasted chickpeas, popcorn and fibre-rich protein bars with minimal sugar. Find more on snacking with diabetes here.
These are strange times indeed. But don't let a little isolation get you off a healthy eating track with your diabetes. By stocking up properly, you can eat healthy even when you're stuck indoors.  And if you must stay inside here is a list of many of the online grocery stores available in all the provinces in Canada.
Here is your healthy eating printable grocery list
Whether you are ordering groceries for delivery, or making quick trips to the grocery store, we hope this helpful list makes you feel a little more prepared! Click here for a printable healthy eating grocery list, including foods that have a longer shelf-life.