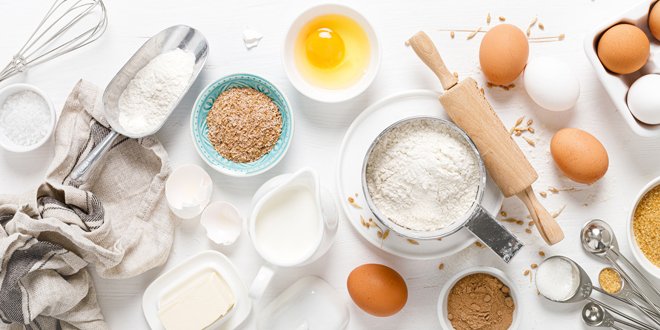 Who says you can't have your cake and bake it too! Just because you have diabetes doesn't mean you can't enjoy a delicious baked treat from time to time—especially when you bake it yourself. While it may be more convenient to pick up a ready-made cake, baking one yourself means you can tweak the ingredients so that it's healthier and more suitable for a diabetes diet.  Here's a guide to blissful baking when you have diabetes.
What type of flour is best for baking?
Many recipes call for white all-purpose or cake flour in baking, but now there are so many alternative nut flours that make for a far healthier option. Almond, oat and coconut are all examples of nut flours that are high in protein, have healthier fats and are higher in fibre, which will help keep your blood sugar in check.  Adding pecan, hazelnut or pistachio flour are other options that will add a distinct flavour to your baking.
If you can't find a nut flour you like, try using whole wheat flour which has a lower glycemic index than white or mixing half your regular flour with whole wheat.
Can I use regular sugar in baking?
With diabetes, it's always important to limit your overall sugar intake. When baking, you can usually reduce the amount of sugar in a recipe by up to a third without noticing a big change in flavour. (Yeast-based recipes are an exception as the sugar is needed to activate the yeast.) Here are some other ways to keep baked goods tasting great without all that refined sugar:
Use natural sweeteners such as bananas or applesauce, or dates and raisins in moderation, in place of regular refined sugar
Add calorie-free, sweet-tasting spices
Add extra vanilla, almond, orange or other extracts, which offer natural sweet flavours
Use no-sugar or low-sugar options in recipes that call for jams or jellies
Glaze loafs or cookies with unsweetened jams mixed with water instead of sugary icings
Try substituting regular sugar for more natural options such as agave or honey
Opt for cocoa nibs, unsweetened cocoa powder or dark chocolate instead of sugary milk chocolate
Can I use artificial sweeteners?
It's ok to experiment with sugar substitutes that are safe for baking, but just remember the ratio of sweetener to regular sugar won't be identical—and baking times may vary too. Check for measurement and baking time adjustments on the brand's label or website. Keep in mind that baked goods may also turn out smaller in size with artificial sweeteners because, unlike regular sugar, they provide no bulk or volume.
Read more on the best sweeteners for diabetes here.
What is the best type of fat to use in baking?
Contrary to popular belief, butter or margarine aren't the "be all" when it comes to delicious baked goods. In fact, there are numerous other more nutritious fat options to try. For example, substituting an equal amount of avocado in place of butter or margarine will add fibre and healthy fats while giving your baked goods a creamy texture. Many liquid fats (i.e., canola, olive and grape seed oils) can also be substituted for solid fats in recipes.
You can also reduce up to half the fat of butter or margarine in many baked goods by replacing them with mashed or pureed fruits and vegetables. In addition, try using low-fat or fat-free versions of the ingredient a recipe calls for. Low-fat cream cheese can be swapped for regular, for example, and unsweetened soy milk can be a good substitute for full-fat milk. Find other useful baking substitutions here.
Finally, instead of buttering your baking dish, use parchment paper to cut down on fat. Or add cooking spray to a paper towel and grease your pan to help limit the amount you're using.
Any other tips for diabetes baking?
Even if you're not using vegetables to supplement fat in baking, veggies are a great way to add nutrients without altering taste. Try adding a ½ to one cup of shredded spinach, zucchini or carrots to your next cake mix or muffin batch.
Remember to watch your portion sizes so you don't overindulge either. For example, try using mini-muffin tins to create smaller sizes, and freeze portions to enjoy later. Or cut down on the amount of carbs in a pie by leaving the crust off entirely.
If you know you'll be sampling baked goods for dessert, limit your carbs earlier in the day to compensate.
What can I bake?
Now that you're ready to start, here are some tasty and nutritious recipes to get you baking:
Once you get used to that sweet smell of freshly baked goods, and sample the finished product, you may never go back to store-bought again!