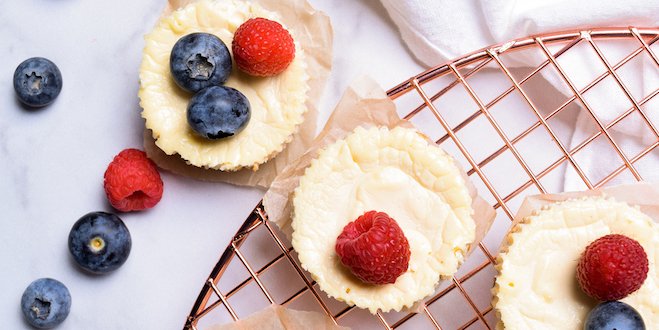 These bite sized portions are perfect for an occasional indulgence. This lightened-up version of the old favourite has a healthier oat and nut base that gives these little cakes the perfect texture; and. replacing Greek yoghurt for the traditional heavy cream makes these little bites lighter without losing the richness of a classic cheesecake. This recipe makes a large batch. Feel free to freeze what you don't need. Before starting, make sure your cream cheese, yoghurt and eggs are all at room temperature.
Ingredients
For the Base
1½ cup/6 ounce/170 grams oats
½ cup/2¼ ounces/65 grams pecans
¾ tsp cinnamon
3 tbsp/1⅓ ounce/37 grams sugar
⅛ tsp salt
6 tbsp/3 ounce/90 grams unsalted butter, melted
For the Filling
2 blocks/1 pound/500 grams, light cream cheese, room temperature
1¾ cups/15 ounces/440 grams 2% Greek yoghurt, room temperature
¼ cup/1¾ ounce/50 grams sugar
3 eggs, room temperature
1 tsp vanilla
1 tsp lemon zest
2 tsp/10 mL lemon juice
½ cup blueberries or raspberries for serving
Directions
Line 18 cups from two 12-cup muffin tins with paper liners. Preheat the oven to 350˚F.
In a blender or food processor mince the oats, pecans, cinnamon, sugar, and salt until you have crumbs. Add the melted butter and process until uniform.  Remove the mixture to a bowl and mix by hand until the mixture is uniform.
Evenly distribute the mixture between 18 cups (about 1 tbsp per cup). Press the mixture firmly into the bottom of the cups.
Bake for 10 minutes, let cool completely.
Make the filling. In a blender, blend together the cream cheese, yoghurt, sugar, eggs, vanilla, lemon zest and juice until completely smooth.
When the cheesecake bases are completely cooled, pour the filling into the cups, using all the filling. It will fill the cups almost to the top.
Bake for 20-25 minutes or until some of the tops are starting to crack and they are no longer wobbly.
Let cool and refrigerate for at least 4 hours or overnight.
Remove from the muffin tin, tear off the liners and serve with berries.
Serves 18
To Freeze:  Remove cakes from muffin tin (leave the liners on) and freeze in an airtight container for 1-2 months.