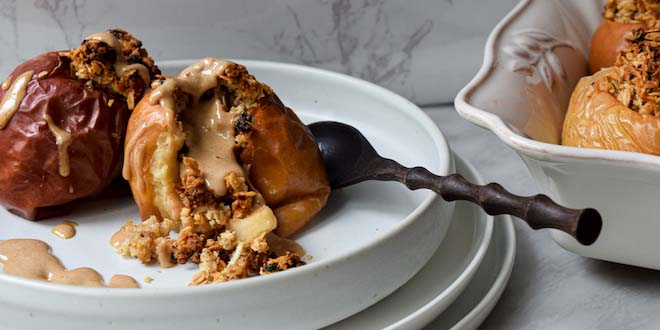 This clean and healthy dessert is so delicious and one that you can feel great about eating.  So good, that in fact, it would make a perfect breakfast.
INGREDIENTS
8 gala or fuji apples (they hold their shape best)
1 cup water
For the Topping:
1 cup/100 grams rolled oats (I like large flake or old fashioned)
½ cup/45 grams flour (can be a mix of whole wheat and white)
¼ cup/30 grams chopped pecans, almonds or walnuts
1/4 cup unsweetened shredded coconut
1/2 tbsp maple syrup
1 tsp vanilla
2 tbsp softened butter
For the Tahini Drizzle (optional):
3 tbsp tahini (sesame seed paste)
1/2 tbsp maple syrup or honey
2 tbsp water
1-2 tsp lemon juice
⅛ tsp cinnamon
⅛ tsp salt
DIRECTIONS
Preheat oven to 375˚F.
Hollow out the apples, but don't use an apple corer—it will slice all the way through the apple, which is not what we're after. You want to remove the core and seeds while keeping the bottom of the apple intact, so you have a nice little vessel in the middle to fill with the crisp. Start by using a paring knife to carefully slice around the top core of the apple, making sure not to go all the way through to the bottom. Then pull out what you cut and use a spoon to scoop out the rest. Make sure that all seeds are out. (I find that the sharp edges of a ½ tsp measuring spoon are ideal for scooping out the core, but any small sharp spoon or even a melon baller will do.)
Place the apples in a roasting dish that holds them snugly.
Mix all the Topping ingredients together (by hand). Spoon the topping evenly into each apple to overflowing.  Pour the water into the bottom of the pan.  Cover pan with foil.
Bake for 25 minutes. Uncover and bake for another 25 minutes or until the apples are soft, shrunken and the crisp is browned.
In the meantime, make the Tahini Drizzle by mixing all the ingredients together with a whisk.
Serve warm with the Tahini Drizzle drizzled over the top.
Serves 8.
Nutritional information, with NO sauce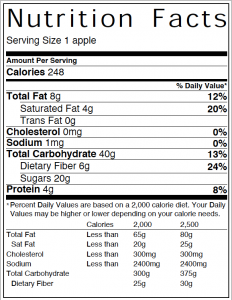 Nutritional information, with Tahini Drizzle