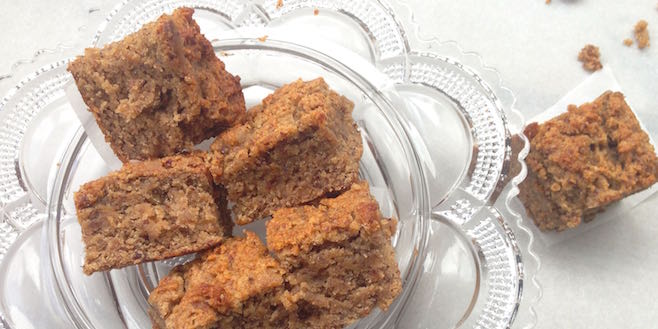 This cake tastes decadent but really it's full of healthy ingredients. When buying coconut oil, buy only virgin coconut oil. Regular (non-virgin) coconut oil is partially hydrogenised and contains trans fat.
You can purchase all the ingredients at your local health food store or in the health food section of your grocery store.
INGREDIENTS
8-10 dried dates, pitted
2 ripe bananas
1/3 cup maple syrup
¼ cup virgin coconut oil*, melted or extra light olive oil
2 tbsp lemon juice
1 tsp vanilla extract
1 cup kamut flour
1 cup almond meal/flour or any other flour
¼ cup tapioca flour
1 tbsp baking powder
1 tsp baking soda
½ tsp of cinnamon
½ tsp salt
DIRECTIONS
In a small bowl, soak the dates in boiling water while you get the rest of the ingredients organized.
Preheat oven to 350°F.
Grease an 8-by-8 inch square pan. Line it with parchment paper up two opposite sides.
In a large bowl, whisk together the flours, baking powder, soda, cinnamon and salt.
Drain the dates but don't squeeze them out. Add the bananas to the dates and mash together but leave a little chunky. Add maple syrup, oil, lemon juice and vanilla, and mix.
Add the wet ingredients to the dry ingredients. Fold together using a spatula BUT do not over-mix (it's ok to see a few dry spots of flour). The mixture will be very thick.
Pour into prepared pan and spread gently to even out.
Bake for 30 minutes or until toothpick inserted in the center of the cake comes out clean.
Cool on a rack, flip over to remove from pan, remove parchment and slice into squares.
*Coconut oil is solid and hard. I put the whole jar in the microwave for about 1 minute to soften it before I scoop out ¼ of a cup, then I melt that.
Slice into 25 squares
NOTES:
For a Gluten-Free Version: Replace the kamut flour with chickpea flour (and all the other ingredients should specify that there are gluten free and have no cross contamination).
For a Nut-Free Version: Replace the almond meal with coconut flour or even all-purpose flour.
You can replace coconut oil with vegetable or extra light olive oil.
You can replace the tapioca flour with potato starch or rice flour.