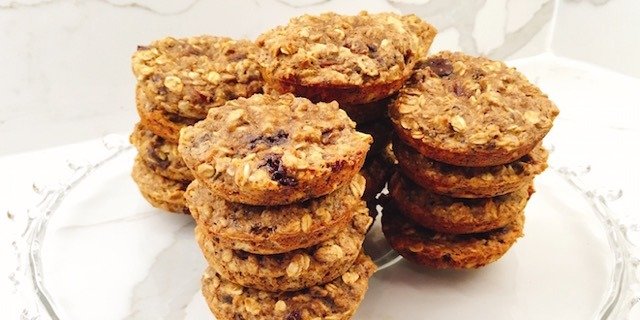 I hesitate to use the word cookies and breakfast in the same sentence, but really these little (or big) nuggets are healthy enough for an on-the-go breakfast.
INGREDIENTS
1½ cups (140 grams) old fashioned rolled oats
½ cup (60 grams) whole wheat flour
¼ cup (25 grams) ground flax seed
1 tsp cinnamon
½ tsp baking powder
½ tsp baking soda
¼ tsp kosher salt
2 very (over) ripe bananas, mashed
⅓ cup unsweetened apple sauce (I use 1 snack size cup apple sauce) (104 ml)
1 egg, beaten
2 tbsp canola oil
2 tbsp melted peanut butter, or any nut butter
2 tbsp maple syrup or honey
2 tsp vanilla extract
1 cup chopped medjool dates (pitted), about 12 dates
DIRECTIONS
Preheat the oven to 350˚F, line a cookie sheet with parchment.
Mix together the oats, flour, flax, cinnamon, baking powder, baking soda and salt in a large bowl.
In a separate bowl mix together the mashed banana, apple sauce, egg, oil, peanut butter, maple syrup or honey, vanilla. Add the date pieces, using the mixture to separate the sticky dates. Mix the banana mixture into the oat mixture (it will be thick).
Scoop about ¼ cup lumps onto a parchment lined cookie sheet.  Flatten them a little on the top.  Bake for 15 minutes.
Cool on a baking rack.
Store in a sealed container for 4 days or freeze.
Serving 1 cookie
Recipe makes 16 cookies