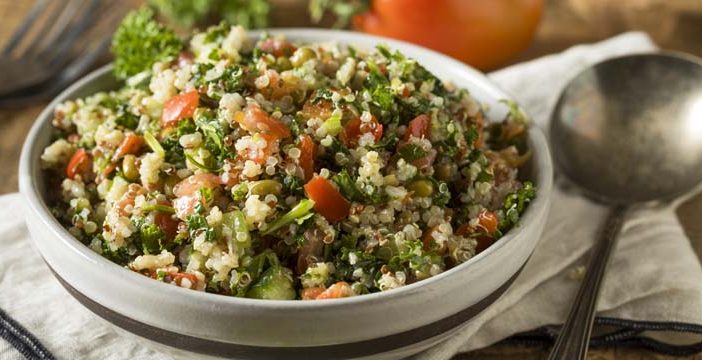 In managing diabetes, it's essential to avoid major fluctuations (dips and spikes) in your blood sugar, which can be taxing on the body and lead to future health complications. Fortunately, you can help control blood sugar with diet, as there are foods that help stabilize blood sugar and foods that spike it. Let's look at some ways you can help keep your blood sugar in check via the right meal and snack choices throughout the day.
How do different food groups affect blood sugar?
Highly refined carbohydrates and other foods with a medium or high glycemic index (GI) are absorbed quickly by the body and cause our blood sugar levels to spike.
On the other hand, high-fibre, whole grain foods and vegetables with a lower GI slow down the digestive process, allowing the sugar in foods to be released into the body more slowly. The result is fewer dips and spikes, which is always a good thing in helping manage blood sugar levels.
What foods can cause blood sugar to spike?
Highly processed snacks and foods with a high or medium GI can cause your blood sugar to spike. But it isn't only sweet-tasing foods that will bump up your sugars. Starchy carbs such as potatoes and refined carbs such as white bagels, bread, pasta and rice can spike sugars just as cakes, sweets and soft drinks can.Even some fruits have a high GI and should be avoided or eaten in moderation. Here's a list of high GI fruits to keep on your radar.
What foods help control blood sugar levels?
High-fibre foods with a low GI help stabilize blood sugar. These include vegetables, certain fruits and whole grains such as whole grain breads/cereals and brown rice. Other good whole grain options include barley, quinoa and millet.
Here's more on how to control post-meal blood sugar levels and the best bedtime snacks to keep your blood sugar stabilized overnight.
Which food combinations help in controlling blood sugar?
Pairing certain foods can be useful in stabilizing blood sugar too. For example, combining fibre-rich carbs with healthy fats and lean proteins can delay the digestion of carbs and keep blood sugar levels stable. Eating balanced meals and snacks also provides a steady supply of fuel (carbs) to our bodies so we have more energy throughout the day.
A few examples of optimal food combinations to keep blood sugars in check include a slice of whole grain toast with avocado and egg, or a lean piece of fish with olive oil with a serving (1/2 cup) of brown rice and a side of broccoli.
Key meal tips to help control blood sugar
Here are some ways to help manage your blood sugar levels around meal or snack times.
Add more fibre-rich foods: Start dinner with a salad or add spinach, broccoli or beans to your meal for a fibre boost. Swap white rice for brown and look for breads that list whole grain flour as their top ingredient.
Opt for low GI fruits and vegetables: Consider switching regular potatoes with sweet potatoes or yams, which have a lower GI. Eat high GI fruits like pineapple and overripe bananas in moderation.
Pass on the processed stuff: Refined carbohydrates will spike your blood sugars, while whole foods will keep your blood sugars stable. The latter will give you more energy too and help you avoid the typical post-sugar slump.
Drink more water: Being dehydrated also contributes to blood sugar spikes. When you're not drinking enough water, the body produces a hormone that encourages the kidneys to retain fluid and stop flushing out excess sugars through urine.
Balance is key: Ensure your meals combine fibre-rich carbs with healthy fats and lean proteins.
Exercise before or after meals: Research shows that both high- and moderate-intensity exercise can reduce blood sugar spikes. That's because exercise increases insulin sensitivity and stimulates your cells to remove sugar from your cells. Even light exercise, such as walking after a meal for as little as 10 minutes (and some say even as little as 2-5 minutes) can help lower blood sugar.
Remember that you can avoid unnecessary spikes and dips in your blood sugar levels simply by making good food choices for meals and snacks throughout the day. Stabilizing your blood sugar will also help you better manage your diabetes overall—and reduce risks of future diabetes-related health complications.