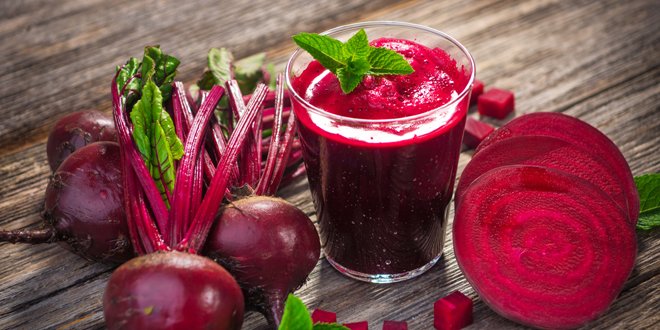 People have been growing beets for centuries and using them for medicinal purposes in addition to food. Now research is proving that our ancestors were really onto something. Beets are nutritious, and when it comes to diabetes, they can be an especially good vegetable choice. For more information about choosing vegetables at the grocery store, check out this expert blog by our dietitian.
Find out more on why it's time to boost your beet intake when you have diabetes.
How to use beets in a diabetes meal plan
Beets are available year-round, which makes them an affordable addition to your diabetes diet. In addition to red hues, there are beets that come in purple, pink, golden, white and even striped varieties.
Whenever possible, eat beets raw to reap the most nutritional benefit. Try grating them into a salad or slaw, or juice them for smoothies and vegetable cocktails.
These versatile vegetables can also be steamed, roasted or pickled. Here are some other suggestions:
Make a tasty beet soup, also called borscht. You can also check out our other diabetes-friendly soups in our appetizer section.
Try a lower-calorie hummus by using beets in place of chickpeas
Snack on beet chips made by cutting beets into thin rounds, tossing them in olive oil and sea salt, and roasting them in a 400F oven until they're crispy
Add a nutrient boost to dessert by adding cooked beets to your favourite chocolate muffin recipe.
As for the beet greens, use them the same way you would spinach or kale. Try sautéing them in a little olive oil as a side dish, adding them to a pasta sauce, or putting a few pieces in a sandwich for an extra nutritional kick.
To prevent your kitchen from looking like a crime scene after peeling and cutting beets, wear disposable gloves and cover your cutting board with wax paper. If you do stain your hands, rubbing them with a little baking soda and water should do the trick.
Here's a tasty recipe for sheet pan beet salad.
What are the health benefits of beets?
Beets have many health benefits including:
high in vitamins, minerals and antioxidants
low in calories
can help with blood flow and circulation
may help lower blood pressure, and
can improve exercise performance
Here are the details! Beets are high in vitamins and minerals, plus they're filled with antioxidants that may help prevent inflammation—a contributor to many chronic diseases. In fact, the potent antioxidant called Betalain is responsible for the beet's deep crimson colour.
Not only are beets nutritious, but they are also low in calories too. One cup of beets is only 58 calories, yet includes essential nutrients such as folate, potassium, vitamin C and fibre. Beets are also a great source of nitrates which help enable blood vessels to widen, promoting good blood flow and better circulation.
Research is showing that beets and beet juice can help lower blood pressure. In fact, one small study involving people with hypertension, reported that drinking a cup of beet juice each day caused a significant drop in blood pressure.
Drinking beet juice has been shown to improve exercise performance as it enhances the ability of muscles to take up oxygen. And don't toss those beet greens either, as they are full of nutrients such as calcium, iron and vitamins.
Are beets okay for a diabetes diet? 
Beets make a great addition to a diabetes diet not only because they are low in calories, but also since one cooked cup contains only 13g carbohydrate. Rich in fibre they can also help prevent surges in blood sugar levels.
There's some evidence that the antioxidant in beets called alpha-lipoic acid may improve nerve damage in people with diabetes. High concentrations of metabolites in beets may also improve insulin resistance, although more research is needed.
Keep in mind that the healthy nitrates in beets can turn harmful when these veggies aren't stored properly. Be sure to cut beet leaves around two inches from the root as soon as you bring them home, then store the bulbs and leaves in separate bags. Beet bulbs can be kept in the fridge for up to two weeks, while leaves should be eaten within two days.
Some who eat beets may find their urine turns red, which is a condition called 'beeturia'. Other than colour, this condition is not linked to any other harmful effects.
The bottom line on beets
If you're not already including the nutritious beet in your meal planning, it's time to start. Available to you year-round, beets are a smart addition to any diabetes diet.