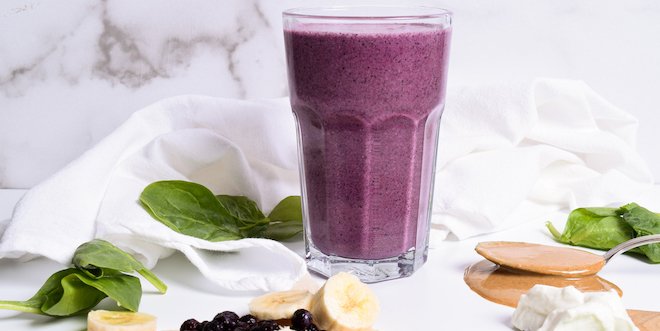 This basic smoothie recipe is a perfect formula for all different kinds of smoothies, including fruit smoothies, vegetable smoothies, or a combination of the two. Use this recipe ratio as a jumping off point to make all kinds of smoothies.  I also like to make smoothie kits for my freezer.  Put all the contents, except the liquid and/or yoghurt, for one smoothie in individual zip-top bags, so when you want to make a smoothie all you need to do is add the liquid and/or yoghurt.  Using frozen fruit or vegetables will eliminate the need for ice which will lead to an overall better textured smoothie.
Base Ingredients (see below for variations)
1-2 cups fruit or vegetables, fresh or frozen
1-1½ cups liquid
½ cup plain yoghurt
Handful of ice cubes if using fresh fruit
Directions
Place all ingredients in a blender and blend until smooth.
Serves 1 (about 2.5 cups)
EXAMPLES
Breakfast
1 cup fruit
¼ cup oats
2 tbsp nut butter
1 cup milk or nut milk
½ cup water
½ cup yoghurt
Nutritional content using 1% milk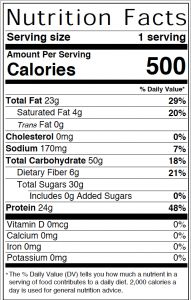 Nutritional content using nut milk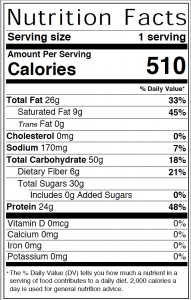 Strawberry Banana
1 cup sliced strawberries
½ banana
1 cup milk or nut milk
½ cup water
½ cup yoghurt
Nutritional content using 1% milk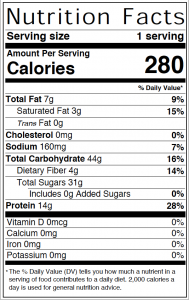 Nutritional content using nut milk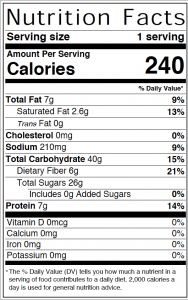 Nutty Chocolate
1 banana, sliced
2 tbsp nut butter
1 tsp cacao powder
1 cup milk or nut milk
½ cup water
½ cup yoghurt
Nutritional content using 1% milk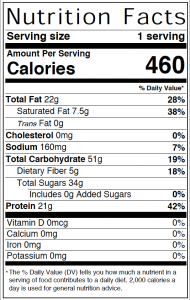 Nutritional content using nut milk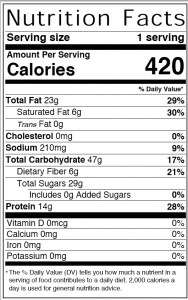 Blueberry Kale
1 cup blueberries
½ cup kale
1 cup milk or nut milk
½ cup water
½ cup yoghurt
Nutritional content using 1% milk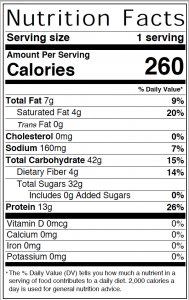 Nutritional content using nut milk