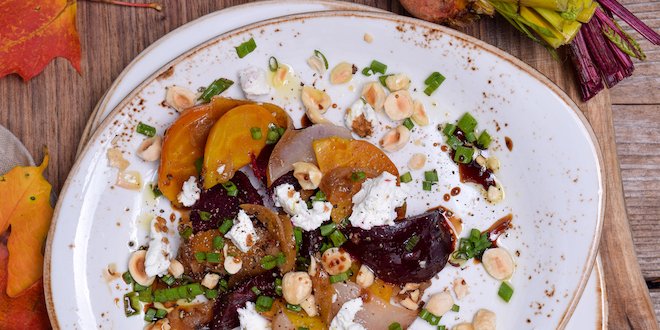 Cooking all your ingredients in foil pouches in the oven makes this beet salad deliciously easy and incredibly flavourful.
Ingredients
1½ pounds of beets, about 4-6 beets (a mix of red and yellow or entirely one colour)
1 onion, peeled and sliced in half-moons
1 pear, quartered, cored and thinly sliced in the length
1 tbsp extra virgin olive oil, divided between the foil pouches (see Step 3)
¼ cup roasted hazelnuts, roughly chopped
2 tbsp minced chives
1½ tbsp balsamic vinegar
2½ tbsp extra virgin olive oil
2 ounces goat's cheese
½ tsp (2 grams) kosher salt or ¼ tsp sea or table salt
Plenty of freshly ground pepper
Directions
Preheat oven to 400˚F.
Remove any beet greens but do not peel the beets.
Place the yellow beets in the centre of a large piece of foil. Drizzle with a portion of the oil. Tightly seal the foil around the beets to make a packet. Repeat with red beets. Repeat with the sliced onions. Repeat with the pear slices. Place the packets on a rimmed baking sheet and roast for 1 hour.  The pears and onions will be ready, remove from the oven and let cool in the packets.  Depending on the size of your beets, the beets may need additional time.  Carefully open the packages and pierce the beets with a knife, they should be tender.  If need be, roast for another 15-30 minutes.  Let the beets cool in the packets until you can handle them.
Unwrap the beets, onions and pears and let them cool slightly. Remove the skin of the beets by pinching and peeling it off with your fingers or rubbing it with a paper towel.
Slice the beets into wedges, keeping the red and yellow separate.
Gently combine the sliced beets, pear and caramelized onion on a serving plate, bowl or individual plates (as shown in the photo).
Add the hazelnuts and chives. Drizzle with balsamic vinegar and olive oil.  Distribute the goat's cheese over the salad and sprinkle with salt and pepper.
Serve warm or room temperature.
Serves 4