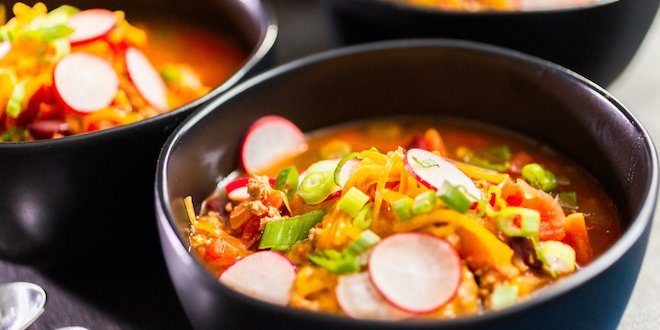 It is very common during the winter months for many of us start to crave high-carb (carbohydrate) comfort foods. But how do you fit these cravings into the diabetes meal plan? We've gathered our favourite tips and recipe ideas so you can manage winter comfort food cravings. Read on!
Understand the different types of carbs
Living with diabetes doesn't have to mean living without carbs. Diabetes Canada recommends that as much as 45-60% of calories should come from carbs. The trick is to recognize that not all carbs are the same, and understand the different effects that different carbs have.
For example, some carbs digest more slowly. This means they release glucose more gradually into the blood stream, and help to avoid blood sugar spikes. These are the carbs you can happily eat more often.
Other carbs convert to glucose very quickly, which can lead to higher blood sugar levels. These are the carbs to eat less often.
Carbs to eat more often
Whole grain carbs like brown rice and whole grain pasta, whole oats, barley and bulgur
Sweet potatoes
Legumes, like dried beans, chickpeas and lentils
Fruits
Low-fat dairy products
Carbs to eat less often
Refined grain carbs like white bread, white rice and white pasta
Products high in white or brown sugar
Highly processed foods like crackers, chips, baked foods and most convenience foods
Choose comfort foods high in healthier carbs
Beans, lentils, sweet potatoes and brown rice and pasta can all be the basis of delicious meals that satisfy our comfort food cravings. And many traditional comfort foods that focus on less healthy carbs can be easily adapted, simply by including brown rice instead of white, or sweet potatoes instead of regular white spuds. You can also use healthy beans and lentils to cut back on high-fat meats.
Here are 8 ways to add a healthier twist to comfort foods
Sweet potato shepherd's pie – Instead of the regular potato topping usually found on shepherd's pie, switch to tasty mashed sweet potatoes. Make the meal lower in fat by substituting a portion of canned or dried beans for some of the ground beef.
Chicken chili on brown rice – Use chicken chunks in your chili instead of beef, increase the quantity of beans, and add lots of chopped sweet peppers and tomatoes. Serve over healthy brown rice. Alternatively, serve on a whole grain fajita with low-fat sour cream and vegetable salsa. Check out our chicken chili recipe here.
Spaghetti Bolognese – Use a smaller portion of lean ground beef than usual and bulk it up with dried lentils and chopped mushrooms. Serve over whole grain pasta or spiralized zucchini.
Healthy tacos – Use half the usual amount of lean ground beef or better yet, try fish tacos and bulk it up with cooked beans. Switch to low-fat sour cream and help yourself generously to veggie salsa
Healthy burgers – Puree cooked beans or lentils and combine with half the usual portion of lean ground meat. Use chicken or turkey instead of beef which is higher in saturated fats. Cook up your burger and serve on half a whole grain bun with a generous helping of salad on the side. Check out our turkey and white bean burger recipe here.
Creamy cauliflower mash – For a great low-carb substitute for mashed potato, chop a cauliflower head into florets and steam in a cup of low sodium chicken broth for about 20 minutes. Blend the broth and florets with ¼ cup oil and a little pepper or herb or spice of your choice. Add more broth if you want it creamier. For another variation, you can also try our puréed cauliflower recipe which has a hint of sweet potatoes.
Healthy chips – Next time you crave potato chips, make up some sweet potato chips instead. Slice sweet potato very thinly – a mandolin is perfect for this – and lay out on a lightly oiled baking tray. Bake at 400˚F for about 20 minutes, turning once. Serve with a healthy dip like humus or guacamole.
Barley risotto – Barley is a low-glycemic carb, which means it digests slowly and doesn't cause blood sugar spikes. It makes a great substitute for white rice in risottos.
Quick tip –You will find some fantastic overall healthy eating tips in our video on this site: Healthy eating for people with diabetes and some great recipes in our Healthy Recipes section.