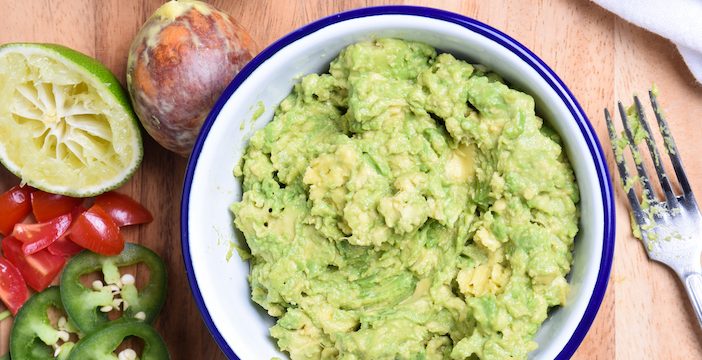 This is a very simple version of guacamole.  A true guacamole will have cilantro, jalapeno, tomato and onion in it.  Feel free to add what you like!
INGREDIENTS
1 ripe avocado, see chef tip
Juice of ½ lime or more to taste.
¼ teaspoon of salt
INSTRUCTIONS
Slice the avocado in half, remove the pit and using a spoon, scoop the flesh onto a plate or a bowl.
Mash the flesh with a fork, add the lime juice and salt, mix well.
Serves 4
Chef Tip: 
I like to buy avocados green. Then I leave them on the counter or in a paper bag to ripen. If the avocado is almost ready, or ready before you want to use it, place it in the refrigerator. It will slow the ripening process, and you can stretch out your ripe or semi-ripe avocado for several more days.
The best way to keep the guacamole from turning brown is to cover the guacamole with plastic wrap directly over the surface, touching the guacamole, making sure you have pressed out any air bubbles (don't just cover the bowl).