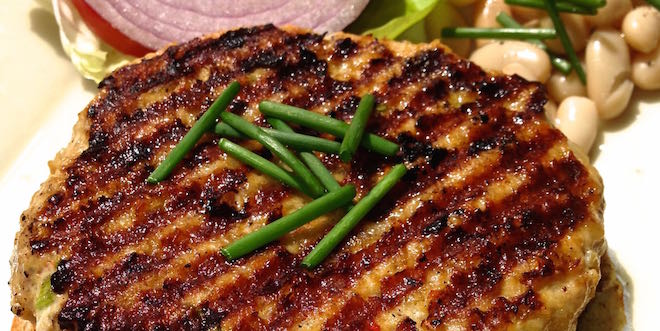 These burgers are unlike most turkey burgers. Because of the addition of white bean, they are so moist and delicious. You can serve them on a bun (not reflected in the nutritional analysis) or wrapped in a lettuce leaf with a slice of tomato!
INGREDIENTS
½ cup canned small white beans (navy or cannellini)
1 tbsp olive oil
½ clove garlic, minced
2 tbsp finely diced red bell pepper
3 tbsp plain dried breadcrumbs
1½ tsp Worcestershire sauce
1 large egg
1 tbsp thinly sliced chives or green onions
½ lb. ground turkey (you can use minced chicken as well)
¼ tsp salt
Freshly ground pepper
Non-stick oil spray to cook the pan-fry the burgers
DIRECTIONS
Combine the white beans, olive oil, and the garlic in a large bowl. Using a fork, lightly mash the beans and then mix them with the oil and garlic until blended.
Add the red pepper, breadcrumbs, Worcestershire sauce, egg, and chives. Mix until blended.
Crumble the ground turkey and add it to the bowl, along with salt and a generous amount of pepper.
Gently mix with a fork or your hands until just blended; don't over mix or the burgers will be tough.
Shape the meat into four patties about 3-inches in diameter and ¾ inch thick (about 4oz. each).
Heat a large nonstick skillet over medium heat, spray with non-stick oil spray. Cook the bottoms until browned, 4-5 mins.
Flip the burgers and continue cooking until they are firm to the touch, about another 5-8 mins.
Alternatively, you can grill them.