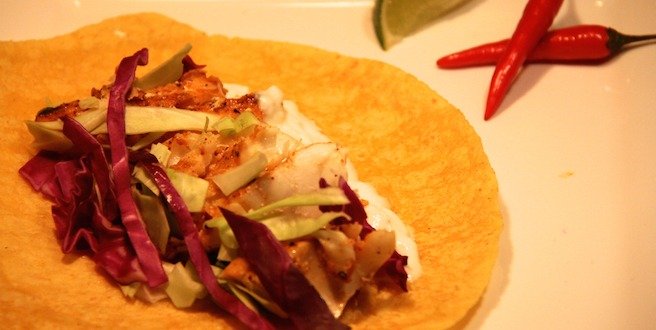 This fish recipe is so versatile, it can be served taco style (with tortilla reflected in the nutritional analysis) or simply as a whole piece of Mexican flavored grilled fish with salsa, guacamole (not reflected in the nutritional analysis). You can grill or broil the fish (see step 3 or 5 accordingly).
INGREDIENTS
2 tsp ground ancho chili powder or regular chili powder
½ tsp ground cumin
3 cloves garlic, minced
1 chipotle chili in adobo from the can (with a little sauce), minced
½ tsp kosher salt
Freshly ground pepper to taste
2 tbsp olive oil
2 pounds firm while fish such as haddock
About 2 cups shredded cabbage, I like red and green mixed
3-4 limes cut in wedges
12 fresh corn tortillas, can be purchased at any store specializing in Mexican products*
DIRECTIONS
In a small bowl mix together chili powder, cumin, and garlic. Add chili in adobo with a little adobo sauce, mix again, add salt pepper and olive oil, and mix again until a loose paste is formed.
Rub the mixture all over the fish. Let stand at room temperature for 30 minutes marinating or up to 4 hours in the refrigerator. If in the fridge, bring to room temp while you are preheating the grill (30 minutes).
Preheat the grill to med-high. When the grill is hot, turn one part of the grill on low, leaving the other parts on med-high. The fish will go on the "low" part. Oil the grill grates well using spray or a damp paper towel dipped in vegetable oil and using togs, wipe the grill with the oiled paper towel (generously).
Place the fish on the cooler oiled part of the grill and cook on each side until golden grill marks are formed. About 3-4 minutes per side. Remove to a cutting board and roughly chop.
You can also place the fish on a lightly greased cookie sheet and place under the broiler for 8-10 minutes.
Divide the tortillas into two stacks, wrap in foil and heat on grill for about five minutes.
Each person should top their tacos with a serving of fish, some cabbage, a squeeze of lime, salsa, and guacamole (not reflected in the nutritional analysis) on the side or in the taco.
Serves 6 (2 tortillas with fish each)
* I freeze the corn tortillas so that I don't have to search for them the day I want them!