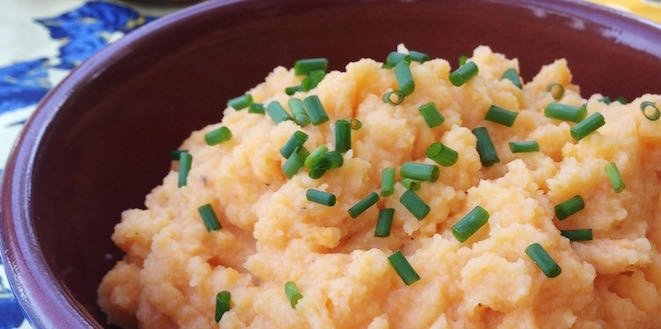 INGREDIENTS
1 large head of cauliflower, cut into florets
1 sweet potato, cooked*
1 egg, beaten
¼ tsp kosher salt
Freshly ground pepper to taste
2 tbsp soy milk or skim milk
DIRECTIONS
Preheat oven to 350°F.
Cook the cauliflower florets in boiling salted water until very soft (mushy), about 15 minutes. Drain and put the cooked cauliflower back in the pot. Heat the pot to med high heat and toss the cauliflower around a few times, so that the residual liquid will evaporate.
In the bowl of a food processor, puree the cauliflower and sweet potato together. Add the milk (dairy or soy) and egg. Puree until smooth. Season with salt and pepper. Mix again. If your food processor is too small, you may need to do this in batches. Transfer mixture to an oven proof casserole dish and reheat or re-cook in oven for 30 minutes before serving.
Serves 8
*to cook the sweet potato, poke the sweet potato all over with the prongs of a fork, then either cook in the microwave for about 10 minutes OR cook in a 400ºF oven for one hour. This step can be done up to two days in advance.
Tip:  This puree can be prepared a day in advance, covered, refrigerated and reheated in the oven uncovered for 40 minutes at 350ºF.