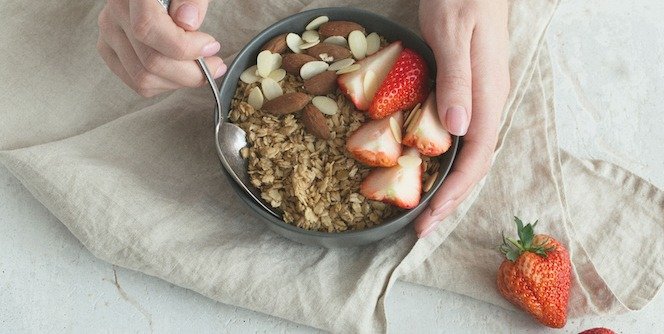 Are you a breakfast eater or a breakfast-skipper? For most people with diabetes, eating breakfast every day is important to keep hunger and blood sugar levels in check; unfortunately, people often skip breakfast because they don't have enough time in the morning to prepare a healthy meal. A healthy breakfast can be as simple as a bowl of cereal, if you know what type and amount of cereal to choose.
Is cereal okay to eat when you have diabetes?
Cereal can be a healthy option for breakfast and a quick one too. However, not all cereals are created equal. The cereal aisle in your grocery store is stacked with options. Many of them are not as good for you as they may seem. The type of cereal you choose and the portion size of cereal you eat are two things that can really make a difference in your blood sugar and hunger levels later in the morning.
What should I look out for on the label?
As with most other products, when it comes to cereal it's important to read labels carefully. Aim to choose a cereal that is low in sugar (5 grams or less per serving) and has at least 4 grams of fibre per serving; 6 or more grams of fibre is even better. Look for cereals that list a whole grain as the first ingredient. Whole grains include the entire grain kernel, which is where the healthy nutrients are found, including fibre. When grains are processed and refined they are stripped of bran and germ, which makes them less healthy. Typically, if you see the following words listed as the first ingredient, the product contains all parts of the grain, so you're getting all the nutrients of the whole grain:
Whole grain [name of grain]
Whole wheat or whole [other grain]
Stoneground whole [grain]
Oats, oatmeal
When you look at the Nutrition Facts Table on a box of cereal, you'll notice that the suggested amount (volume) for 1 serving varies from cereal to cereal. This is because the serving size is based on the weight of the cereal – 28 grams – not the volume. Depending on the density of the cereal, this can range from a 1/3-cup serving to a 1-cup serving.
How much cereal should I eat?
Most people with diabetes should aim to eat about 30 to 45 grams of carbohydrate for breakfast. When it comes to cereal, this includes the milk and any other add-ons such as banana or berries. One cup of milk accounts for 12 grams of carbohydrate. Look at the portion size suggested on the cereal box and determine how much net carbohydrate is in that serving (total carbohydrate minus fibre). Measure out this amount of cereal or less, depending on your carbohydrate goal. Don't rely on "eye-balling", because you will likely underestimate the amount!
What about hot cereals?
Except for "instant" hot cereals, most hot cereal choices are lower Glycemic Index (GI), which means they are slowly digested and will not raise your blood sugar as rapidly or as high as cereal with a high GI. Instead of instant hot cereal packets, consider cooking up a batch of steel-cut oats for the week and keep it in the refrigerator. In the morning, just heat a measured portion in the microwave. Add in some chopped nuts or nut butter (for example, peanut butter or almond butter) and you have a quick and ultra-healthy breakfast ready to go. The added protein will also help slow your digestion and keep you satisfied longer.
Chosen wisely, hot or cold breakfast cereals are healthy breakfast options. One way to assess which cereals work best for you is by testing your blood sugar before and then two hours after you eat. If your blood sugar is at goal, then you're on track.
Try these simple and delicious cereal recipes: