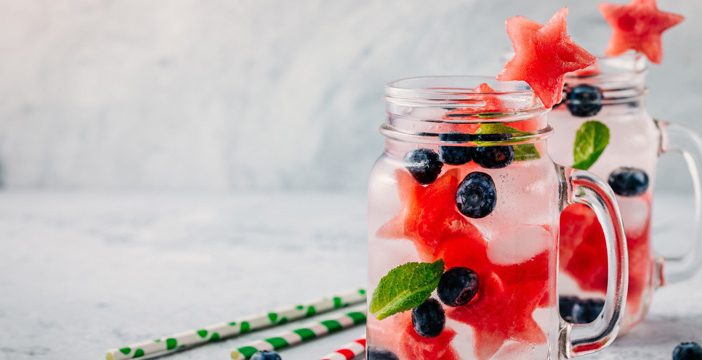 Our bodies need water to function. As the temperatures heat up, staying hydrated is more important than ever, especially when you have diabetes which can increase your risk for dehydration. Drinking water throughout the day will prevent dehydration and help keep your blood sugar levels in check. Beyond water, there are several hydrating foods that will help fill your daily water quota. Here are 12 hydrating foods to keep on your radar when you have diabetes.
1. Apples (86% water content; carbs: 21 grams per one small apple)
Filled with antioxidants, fibre and water, apples make a great go-to snack when you need some hydration. While apples are delicious all on their own, you can also try baking them or making applesauce. Apple juice is another option, but just watch out for added sugars.
2. Cucumbers (96% water content; carbs: 2 grams per half-cup, sliced)
This water-filled, low-calorie vegetable is high in antioxidants and vitamins, and good for your skin, too. Add a few slices to plain water for an instant health boost or enjoy some cucumber slices with hummus or your favorite low-calorie dip or guacamole.
3. Bell peppers (92% water content; carbs: 9 grams per one cup, chopped)
An excellent source of vitamin C, peppers are also high in vitamin A and fibre. Add them to your favorite salad or breakfast omelet or grill them on the barbecue and use as a burger or taco topping.
4. Celery (95% water content; carbs: 3 grams per one cup, chopped)
Full of water, minerals and vitamins, celery also boasts a low glycemic index which is always beneficial when you have diabetes. Celery sticks topped with peanut butter or hummus make a refreshing snack, or add some celery slices to your next tuna salad for some crunch.
5. Spinach (91% water content; carbs: 7 grams per one cup, cooked)
This leafy green is filled with iron, vitamins and minerals, along with being a super immune booster. Beyond salads and smoothies, add spinach to scrambled eggs, soups, stews and stir-fries—as well as your favorite sandwich or wrap.
6. Watermelon (92% water content; carbs: 11 grams per one cup, diced)
Packed with nutrients and antioxidants, watermelon is a refreshing alternative to plain water. Have some cubed watermelon on hand to snack on during those hot days, or try adding watermelon slices to a salad for a delicious water boost.
7. Strawberries (91% water content; carbs: 11 grams per one cup)
Not only are strawberries tasty, they are a good source of flavonoids, which contribute to brain health. Eating strawberries can help reduce disease-causing inflammation too. Slice them over granola and yogurt, or add them to a smoothie. Strawberries can also be a refreshing, sweet addition to your next salad or cheese plate.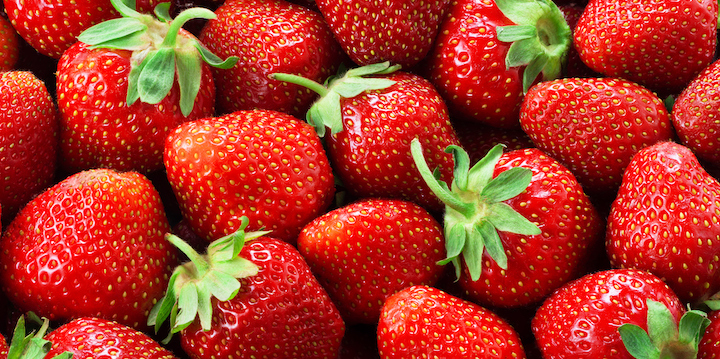 8. Lettuce (96% water content; carbs 1 gram per one cup, shredded)
As well as keeping you hydrated, lettuce contributes to bone health, improved vision and has been shown to help promote sleep. Use it as the base for all your salads or as a bread alternative in your next sandwich or wrap.
9. Tomatoes (94% water content; carbs: 3.5 grams per one small tomato)
Hydrating, fibre-rich tomatoes also contain substantial amounts of vitamins A and C which benefit the immune system. They're also a good source of lycopene which can improve heart health and lower the risk of some cancers. Tomatoes are delicious in sauces, salads and salsa. Try this Green and White Bean Salad with Cherry Tomatoes.
10. Skim milk (91% water content; carbs: 12 grams per cup)
Comprised mostly of water, skim milk is a refreshing beverage that's also filled with vitamins and minerals. In fact, some studies have shown that skim milk is just as effective in keeping you hydrated after a workout as a sports drink or water. If you don't want to drink it on its own, try adding it to your favorite smoothie.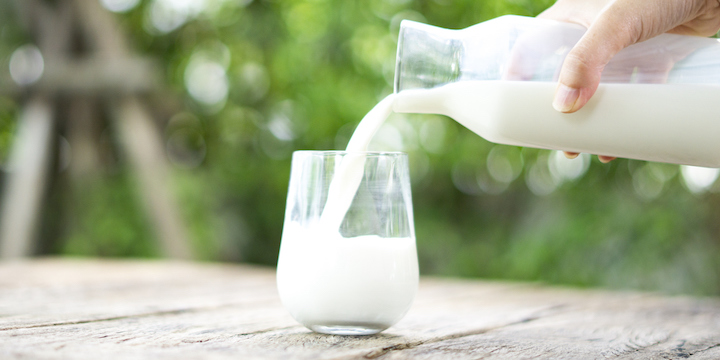 11. Zucchini (94% water content; carbs: 3.5 grams per one cup, sliced)
This fibre-rich, antioxidant-packed, versatile vegetable can be baked, steamed or grilled. Add it to it a stew or side dish—or try these tasty zucchini noodles.
12. Peaches (89% water content; carbs: 15 grams per one medium peach)
A good source of fibre, vitamins and minerals, peaches have also been linked to improving heart health because they lower cholesterol and high blood pressure. Put one in your next smoothie or yogurt topping, or grill it on the barbecue to pair with meats or salads, or eat as a healthy dessert!
Whenever exercising, remember that you'll need even more water or hydrating foods to prevent dehydration because you'll be perspiring more. You can also combine the two by adding hydrating foods to your water to make it more flavourful without adding calories or sugar. Sliced cucumber, watermelon, strawberries and peaches make a great addition to water, as do fresh herbs like mint and basil.
Check out some other frozen and chilled beverage ideas that are low in fat and calories to keep you hydrated.