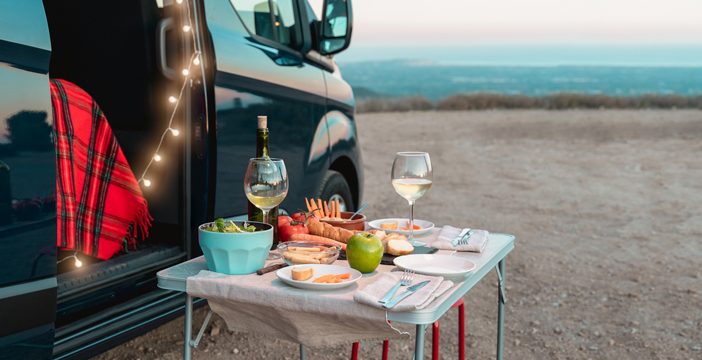 If you have diabetes, it's important that you choose healthy snacks to satisfy your hunger cravings between meals, especially when you're travelling. Read on to learn more about 10 diabetes travel snacks.
1. Fresh fruit
One of the most portable snacks you can pack is fresh fruit. Bananas, apples, pears, kiwis, apricots and peaches can all be washed and tucked away in a backpack or travel bag. Most fresh whole fruit can be stowed safely at room temperature for upwards of a week, so you don't need to worry about refrigeration. When you need a quick nutrition boost, they're ready for you!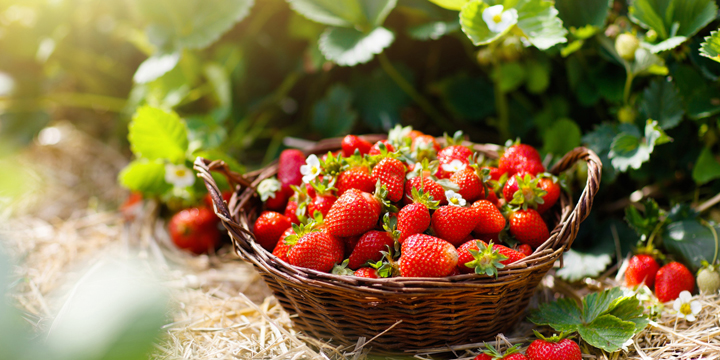 2. Fresh vegetables
Veggies are also an incredibly healthy and easy-to-pack option. Carrot and celery sticks, cherry tomatoes, snap peas, and cucumber can all be washed and packed away in an insulated bag. (Most fresh vegetables should not be left at room temperature for longer than 2 to 3 hours.)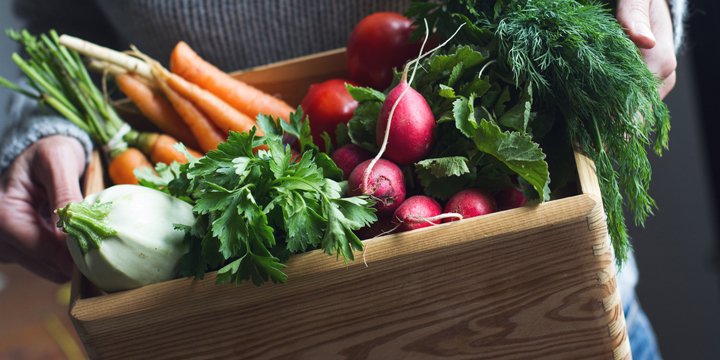 3. Homemade granola bars
Granola bars are an excellent choice while you're travelling because they provide good energy, and are compact and convenient to carry. Granola bars typically contains high-protein ingredients – such as nuts and seeds – which are great for appetite control, as they help keep you feeling fuller longer. However, many packaged granola bars contain high amounts of sugar and fat, so making your own bars is a really healthy choice. Check out this recipe for homemade granola bars.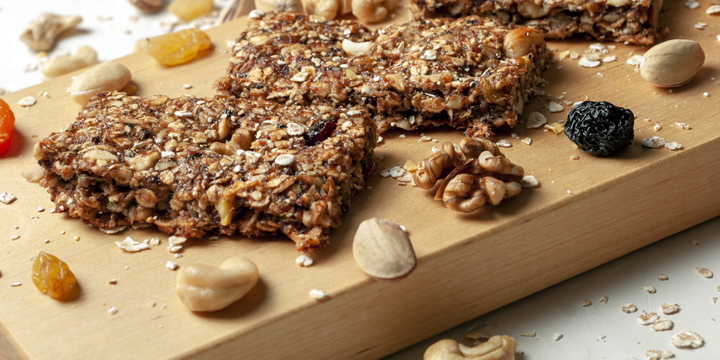 4. Yogurt
Yogurt is an excellent source of protein and calcium. Many varieties of yogurt are also fortified with vitamin D and have added fibre as well. If you're looking for a protein pick-me-up, Greek yogurt contains twice as much protein as regular yogurt (8 grams per 100-gram serving, vs. 4 grams for regular yogurt). Single-serving containers of yogurt are widely available, so choose your flavour, pack it in a refrigerated or insulated pack, and you're good to go!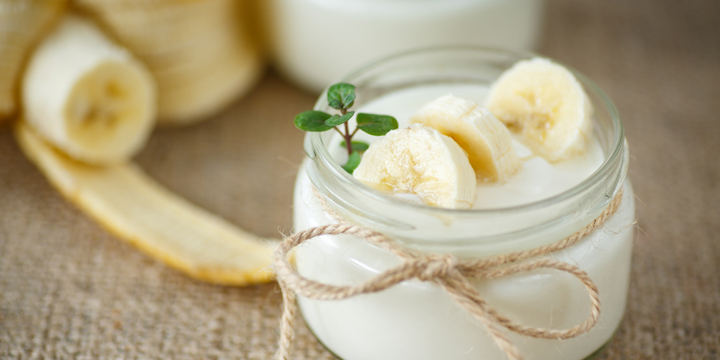 5. Hard-boiled eggs
Eggs are a great on-the-go snack: egg whites are rich in protein, while egg yolks contain choline, a nutrient that promotes liver function and the transportation of nutrients throughout the body. A single egg contains about 70 calories and 6 grams of protein. Make sure you carry hard-boiled eggs in a refrigerated or insulated container: they should not be left unrefrigerated for more than 2 hours, as harmful bacteria can develop after that time.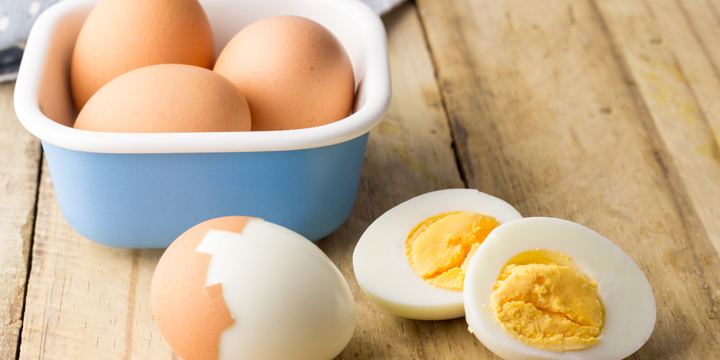 6. Low-fat cheese and whole grain crackers
Cheese is high in protein, which will help keep you feeling full. As well, most cheeses contain little to no carbohydrates and thus rate very low on the glycemic index. Cheddar cheese is a good choice, as it contains just 0.4 grams of carbohydrate per ounce; mozzarella cheese is also good for people with diabetes, as it contains 0.9 grams of carbohydrate per ounce. Whichever healthy, low-fat cheese you crave, spread it on low-salt, whole grain crackers for a healthy snack.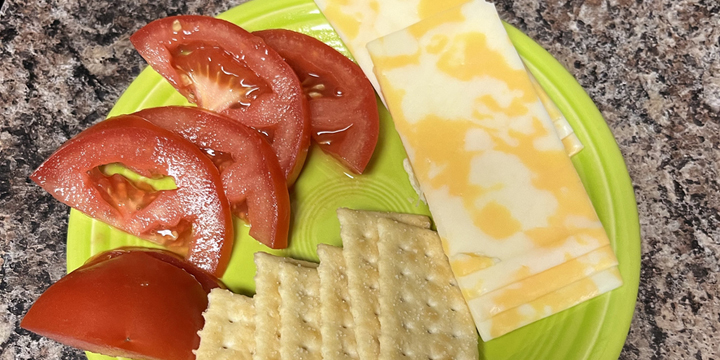 7. Nuts and seeds
One of the easiest pack-and-go snacks is a container or baggie of nuts and seeds. They are high in fibre and filled with nutrients, including vitamins B and E, zinc, calcium and magnesium. Great nut choices for people with diabetes include almonds, cashews, walnuts and pistachios. Calories and fat content can add up quickly, so be sure to watch your portion size: 1 serving size of unsalted nuts is 60 mL, or ¼ cup.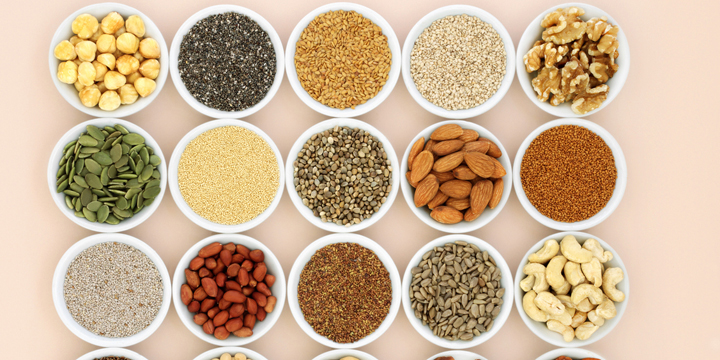 8. Nut butter
Nut butters – such as peanut, almond or cashew – are high in protein, but contain small amounts of carbohydrate and are low on the glycemic index. This makes them a great snack for people with diabetes. Spread a tablespoon of your preferred nut butter on an apple or whole-grain crackers for a protein and fibre boost.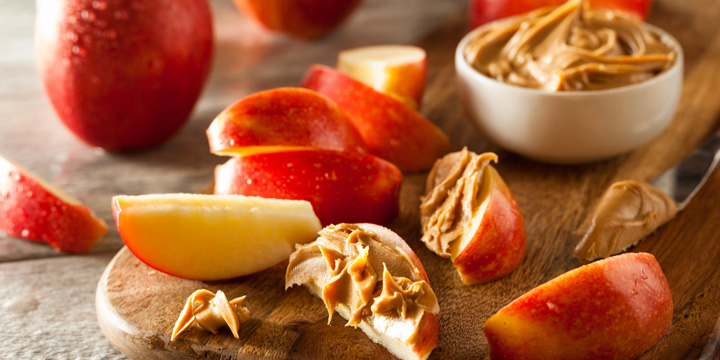 9. Popcorn
When air-popped and eaten plain (skip the oil, butter and salt!), popcorn is a healthy whole grain food that is low in calories and high in fibre. High-fibre foods take more time to digest than non-fibrous foods, so they keep you fuller longer. Popcorn is one of the few food snacks that is 100% unprocessed whole grain. Just one serving of popcorn contains more than 70% of your recommended daily whole grain intake.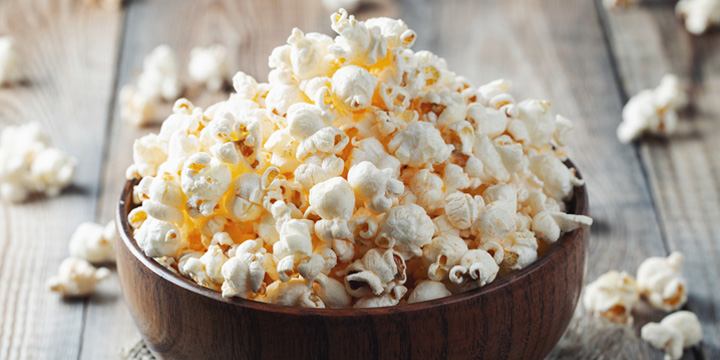 10. Trail mix
Trail mix is a snack made by combining nuts, seeds and dried fruit. A 1-ounce serving of trail mix contains about 4 grams of protein, which makes it a filling snack that may help also help control blood levels. Dried fruit generally contains a lot of fiber and is a great source of antioxidants; healthy dried fruit options include dates, apricots and cranberries. The key is to avoid adding too much dried fruit to your trail mix, as the sugar content may cause your blood sugar to spike if you consume too much.
With a little advance planning, you can enjoy healthy diabetes snacks anywhere you are travelling!