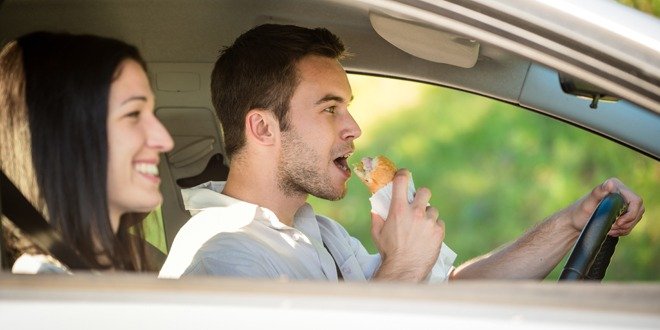 How do you eat healthily with diabetes when you're stuck on a long road trip? 
Whether you are travelling for business or pleasure, healthy eating on the road may be challenging, especially when travel times are extended by distance or traffic. Aim to start and end these road trips on a healthy note for yourself or for someone close to you with diabetes, by following our 5 tips for healthy eating on the road:

Tip #1 – Pack a small cooler with healthy foods and/or snacks
Fill plastic sandwich bags with small portions of snacks like unsalted nuts, whole wheat crackers, unseasoned popcorn, raw veggie sticks etc. For more substantial snacking, include hard boiled eggs and healthy baked goods like half a bran muffin accompanied by an individual portion of peanut butter or low-fat cream cheese. Or pack halves of sandwiches made with lean meat, fish or low-fat cheese.
Avoid sugary drinks and instead load up the cooler with containers of chilled water.
Tip #2 – Check your route and plan for eating breaks
Travel breaks are important for everyone, and especially for people with diabetes. Decide in advance the time/s and place/s where you will stop.
Whether you are a passenger or the driver, it is much safer to enjoy a light meal or snack away from the vehicle. Eating while driving can create an unsafe distraction.
Breaks also offer an important opportunity to walk about and stretch your legs. And don't forget – you can also use breaks to check blood glucose levels.
If you are doing all or much of the driving, you may find it helpful to check this article on our site: Driving and diabetes.
Tip #3 – Check on restaurant menus ahead of time
If you plan to stop at a restaurant, decide on the place ahead of time. This will usually give you a chance to check the menu online and make healthy choices before you arrive.
If possible, avoid most fast-food chains, which often make it harder for people with diabetes to resist temptation. However, submarine chains can be a good option, letting you choose your own sandwich ingredients. Choose a whole grain bun and aim to load up with veggies and lean meats. A couple of slices of vegetable topped pizza can also be an acceptable option for many people with diabetes.
You may find it helpful to read our expert blogger's article on this site Eating out can work!
Tip #4 – Stock up at grocery stores instead of service stations
Service stores are full of unhealthy temptations, ranging from bags of chips and snacks loaded with bad fats to sugary drinks, packaged pastries and microwave-ready meals.
Skip the temptation and instead stock up at a convenient grocery store.  You will find an array of healthy foods, often including pre-cut and pre-washed vegetables and fruits.
Just keep in mind your usual diabetes meal plan targets as you shop the aisles, remembering that fruit can be high in carbs.
Tip #5 – Keep diabetes supplies at hand
Keep diabetes medications close to hand. If you are on insulin, you may want to keep this in a separate, small cooler bag away from any food supplies.
If you are going to be away for a long period, be sure to ask your doctor for extra medications and supplies, and take these with you.
As always, be sure to also have a fast-acting carbohydrate like glucose tablets close at hand at all times, in case blood glucose levels fall low.
Finally, don't forget to take a sharps container. Your pharmacist can provide you with an appropriate size for your needs. A small container is ideal for weekends, for example. Always be sure to keep all needles etc. out of children's reach.
For more information on sharps disposal, see the article on this site entitled Disposal of sharps and unused medication.