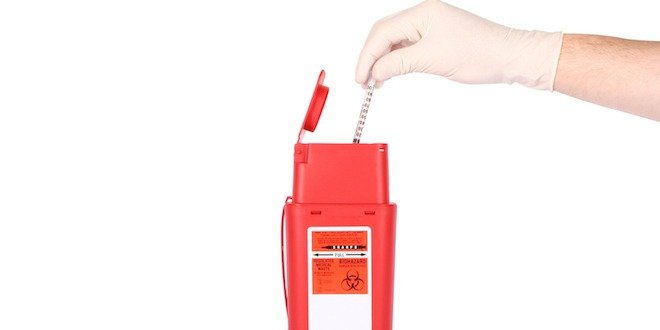 Each year, approximately 7 million syringes are used at home in Canada for healthcare purposes. Improper disposal of syringes and other sharps poses a health hazard for community and sanitation workers.
Careless disposal of unused or expired medication can also be potentially dangerous.  But what are you supposed to do with them?
Here are some guidelines to help you rid your home of medication and sharps clutter, while ensuring the safety of adults and children in your community.
Safe disposal of sharps
Never dispose of syringes or needles in garbage or recycling containers. Instead, all syringes and other sharps should be placed in sealed, puncture-proof containers.

 
Many pharmacies offer free sharps containers, which are made of hard plastic and feature bio-hazard caution labels. When filled, take the containers back to the pharmacy for disposal.
If your local pharmacist does not offer a sharps disposal service, use a metal coffee tin or an empty bleach bottle. Avoid using glass containers.
Many regions also have Hazardous Waste depots where free sharps containers are available and can be disposed of.
Disposal of unused or expired medication
Medication should not be included in curbside garbage or recycling containers, or poured down the drain. Prescription drugs are classed as household hazardous waste.
Many pharmacists will take back unused or expired medications. Ask your pharmacist about their program.

 
You can also take unused medication to many Household Hazardous Waste depots.
Safety rules
Keep all needles away from children. Never put loose needles in the garbage.

 
If possible, use a Sharps clipper to clip the needles off syringes. Scissors are not suitable for this.

 
Never give medications to other people. A drug that is effective for you could be dangerous to someone else. There is also the possibility of overdose or illegal abuse if drugs end up in the wrong hands.
When traveling, take along a small sharps disposal container for syringes.

 

To help protect the privacy of your identify and health information, strike through or scratch off identifying information on the prescription label.
For more information about participating medication return and sharps disposal pharmacies in your area, visit the Health Products Stewardship Association.  Also check your local region for information about Hazardous Waste depots and Environment Days.