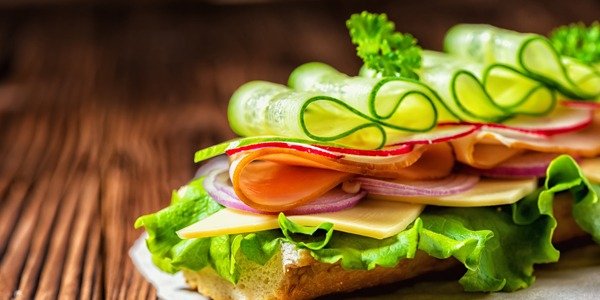 For the most part, individuals with diabetes are advised to steer clear of fast-food. But let's face it, there are times when even the most motivated person is going to end up facing a fast-food menu. So what are the best choices when this happens?
We've taken a look at five popular fast-food outlets and give you some of our picks from each menu. Use the information below to get an idea of some healthy options. You may need to modify the portions to fit into your meal plan.
High sodium is unfortunately an issue with most fast food restaurant options. However, moderation is key. 'Once in a while' these choices can fit into most meal plans. Try to pick low-sodium foods at other meals during the day.
Subway®
Subway restaurants are often recommended for healthy choices due to their fresh vegetable and salad offerings and the opportunity to have a sub made 'your way'. Despite this, it is often hard to know which subs are best.
One healthier option is the oven roasted chicken. The nutritional information for a 6-inch sub on 9-grain wheat bread with lettuce, tomatoes, onions, green peppers, and cucumbers is as follows:
Calories: 226
Total carbs: 47 g
Fibre: 5 g
Protein: 21 g
Total fat: 4.5 g
Sodium: 560 mg
You may also want to add the 60-calorie Subway Veggie Delite® salad. Total carbs: 11 g. Fibre: 4 g. Fat:1 g. Sodium: 75 mg. This does not include dressing. For example, the chipotle dressing is another 190 calories, 330 mg sodium, and 20 g fat. The sweet onion dressing has no fat but is high in sugar.
Other tips:
When ordering a salad consider swapping regular lettuce for spinach and adding avocado.
Apple slices are another healthy side option with 9 g carbs and 2g fibre per serving.
Ask to go light on the salad dressing, since many of the dressings are high in sugar or fat.
Tim Hortons®
Skip the donuts and Timbits® and head instead for a chicken noodle soup, garden salad, or even some oatmeal. Check out these nutritional facts taken from the company's website.

Chicken soup
Calories: 120
Total carbs: 21 g
Fibre: 1 g
Protein: 5 g
Total fat: 1.5 g
Sodium: 710 mg
Oatmeal – Mixed Berries
Calories: 210
Protein: 6 g
Total carbs: 44 g
Total fat: 3 g
Fibre: 6 g
Sodium: 220 mg
Wendy's®
Chili is the tasty and reasonably healthy choice here. One bowl of the Small Rich and Meaty Chili® is packed with beans, which are considered a super-food. A wonderful source of soluble fibre, beans slow down digestion and help to avoid sudden climbs in blood glucose.
Their website offers the following nutritional breakdown for 1 small bowl of chili:
Calories: 170
Total carbs: 16 g
Fibre: 4 g
Protein: 15 g
Total fat: 5 g
Sodium: 780 mg
McDonalds®
Like many other fast-food chains, McDonalds has introduced a number of healthier options to their menu, including Snack Wraps®.
One that's worth looking for is the Grilled Chicken Snack Wrap®. This includes chicken breast, shredded lettuce and a blend of cheeses, wrapped in a tortilla.
The following nutritional breakdown is based on information on the McDonalds Canada website:
Calories: 230
Total carbs: 24 g
Fibre: 3 g
Protein: 15 g
Total fat: 8 g
Sodium: 480 mg
The wrap includes shredded lettuce but you may still want to bump up your veggie intake with a healthy side order of a 40-calorie Side Garden Salad. This checks in with 3 g carbs, 1 g fibre, 2 g fat, and 70 mg sodium. Please note that this is without dressing. If you add the Balsamic Vinaigrette dressing, you are looking at an additional 120 calories. Cut this back by only adding a small splash of dressing.
If you prefer a salad as a main and would like something with more protein, try the Asian Sesame Fusion with Grilled Chicken®. This has 14g carbs, 5g fibre, 320mg sodium, and 26 g protein. Again, this does not include the dressing.
Starbucks®
If you are ever picking up your morning coffee and wanting to grab a bite to eat, consider trying the spinach, feta and egg white breakfast wrap. The nutritional information is as follows:
Calories: 290
Total carbs: 33 g
Fibre: 6 g
Protein: 19 g
Total Fat: 10 g
Sodium: 830 mg
Another healthier option is the reduced-fat turkey-style bacon, cheddar and egg white breakfast sandwich, or try the oatmeal.
Quick tip: Always remember that your individual diabetes daily meal plan should guide the choices you make at each meal.
Ask the dietitian on your health care team for tips on how to make the best choices for your individual needs. You may also find it helpful to use the food diary tool in the Self Management Tools on this website.
For more helpful tips on dining out, read our expert dietitian's blog Eating out can work!