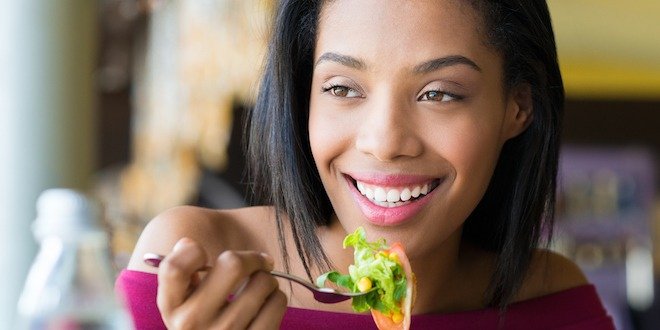 Eating out nowadays is a fairly common occurrence and people living with diabetes are no exception. According to food consumption statistics, we spend about 50% more on eating out today than we did 30 years ago. Almost 1 in 10 meals and snacks consumed by Canadians comes from a restaurant.
If eating out regularly is a part of everyday life, keeping track of calories, salt, fat and portion sizes can be tricky. Many restaurants have taken it upon themselves to respond to consumer demand and offer healthier food options; whereas other restaurants make it a bit more difficult. If the menu offers little in the way of something 'green' (like vegetables) or anything that has not been deep fried, either the portion size may have to be much smaller to lessen the impact of the meal on blood sugar levels or a healthier alternative place to eat may be a better option.
Whether eating out is an occasional indulgence or a way of life, moderate portions and careful choices can help make restaurant meals part of an overall health plan. The reality is that eating out is inevitable for most of us, so why not look at ways to make it work instead of focusing on why it can be a challenge? Eating out can work!

Get the facts
Look for information about the nutrition values of the food options for many restaurants at the restaurant itself or on their website. There has been a lot of discussion lately about the role of government in ensuring that this information is readily available to the public. Knowledge is a powerful tool and can go a long way to help a person make healthy choices.
Make room for veggies
Take advantage of the fact that someone else has peeled, chopped and prepared the vegetables. Even if a person doesn't eat too many vegetables at home, ordering a side salad or dish of vegetables when eating out may help offset the impact of the other choices and portion sizes.  It can also help fill you up so that there is less temptation for dessert!
But if having dessert is a must, substituting the dessert for another carbohydrate option in the meal is a good idea. Skip the potato, add extra vegetables and you've made room for dessert!
Eat on time
For a person taking diabetes pills or insulin, eating at a consistent time every day can help maintain blood sugar levels in target. If eating later than usual can't be avoided, a snack containing carbohydrate will help avert a low blood sugar episode.  Having a small snack handy is helpful too if the situation requires waiting too long for a table or food service.
Whether eating at home or eating out, the principles of healthy eating with diabetes are the same. Working with the registered dietitian and rest of the diabetes team can help a person with diabetes make eating out a more pleasant experience overall.  Supporters of people living with diabetes can also play a big role in this by helping to choose restaurants that offer healthier choices or even by offering to share larger portions.