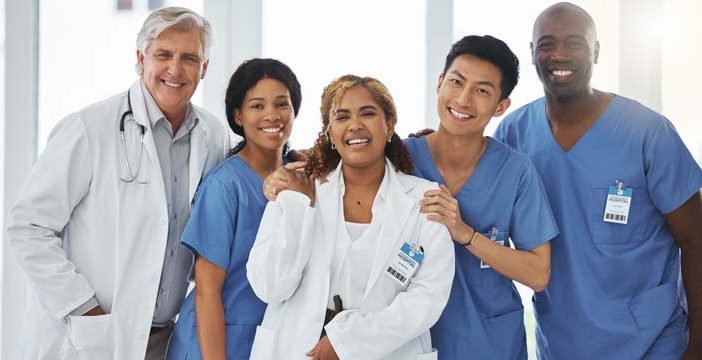 Diabetes can seem a lonely condition, but in fact there is a lot of support available to individuals with diabetes through the diabetes healthcare team. The important thing is to understand exactly how the various team members can help.
An interprofessional team is a collaborative group where healthcare providers work with people from within their own profession, with people outside their profession and with patients and their families. In Canada, there is some evidence to show that people living with diabetes who are part of interprofessional teams have better outcomes and fewer hospital visits than those who are not. Let's look at the key members of the diabetes healthcare team and review the ways in which they help people with diabetes and their family and friends.
Members of the diabetes healthcare team
The individual with diabetes is at the centre of the diabetes healthcare team. Surrounding and supporting them are a number of professionals who specialize in different healthcare or related areas.
Diabetes team members include:
The Primary Care Practitioner (aka 'your doctor'). Usually this is a family doctor, who will organize and manage communication with other team members.
An endocrinologist. Endocrinologists are diabetes medical specialists. Many individuals with diabetes, especially those with type 1 diabetes, will have an endocrinologist on their team.
A nurse (RN). A nurse will help you with your overall care and you may meet with them at your doctor's office or at a diabetes education centre.
A registered dietitian (RD). Dietitians' specialized skills in healthy eating and nutrition can help work with you to set up diabetes management goals and individualized meal plans.
A pharmacist. Your pharmacist can provide the latest information on the diabetes medications being taken, and can help you manage your medications.
A diabetes educator. A Certified Diabetes Educator (CDE) is a licensed professional who has special expertise in diabetes care.  This may be a nurse, dietitian, pharmacist or other health care professional who works in the area of diabetes.
A chiropodist. Chiropodists play an important role in helping you take care of your feet. This is particularly important for people with diabetes.
An optometrist and/or ophthalmologist. Eye specialists help you keep a close check on the eyes to avoid vision and related issues.
A social worker, psychologist or psychiatrist. These professionals can provide valuable resources and information to help individuals overcome the daily living challenges of living with diabetes.
When to turn to the diabetes team
When diabetes-related challenges arise, there is no need to deal with them alone. Enlist the support of your team for any or all of these issues:
Regular diabetes testing and ongoing healthcare
The Primary Healthcare Practitioner (your doctor) is your partner in ongoing healthcare. You should receive regular testing to keep your diabetes within management targets, which will include 3-4 check-ups per year.
Appointments will include blood pressure and blood glucose level checking, and review of lab test results. Also ask your doctor to check your feet at each visit. It's important for you to learn what needs to be monitored and when so check out the what, why and how of diabetes monitoring.
Our expert blogger's article entitled The diabetes healthcare team and you has more information on what to expect from your appointments with your doctor.
Information and education about living with diabetes
A Certified Diabetes Educator (CDE) can answer your questions about diabetes in general and about your specific needs and goals. You may also be able to take advantage of community workshops to learn more about diabetes and meet others who share the condition.
Questions about the diabetes diet
Learn how food impacts on diabetes. Get the guidance you need to develop and follow a diabetes meal plan to help control blood glucose and avoid diabetes complications.
If your doctor doesn't work with a Registered Dietitian (RD), check out the Dietitians of Canada website.
Information about medications and how to take them
Pharmacists can make sure you understand your medication schedule, and can help overcome challenges like forgotten meds or taking medications during illness.
Many pharmacists are also Certified Diabetes Educators and can provide valuable information about an individual's target glucose levels and self-monitoring and overall management of diabetes.
Your pharmacist can also guide you in selecting supplies and equipment such as blood glucose meters and insulin pumps.
Foot care issues
Careful foot care is important to help avoid diabetes complications. See a chiropodist at least once a year, and make additional appointments if any foot concerns arise, including everyday blisters, sores or fungal infections.
Eye care concerns
Your optometrist and/or ophthalmologist is your partner in avoiding eye-related complications. Make an annual appointment and visit more often if concerns arise.
Daily living challenges
Struggling to cope with drug costs or other day-to-day diabetes-related issues? Talk to the social worker on your team about the challenges of daily living with diabetes. Speak with your doctor if you are experiencing anxiety, depression or any other mental health issues.
Signs of diabetes complications
If you are showing early signs of diabetes complications, your doctor may refer you to an endocrinologist or other medical specialist. Individuals with type 1 diabetes are also likely to see an endocrinologist every year – or more often if there are issues.
If you would like to consult with a diabetes team member, ask your family doctor or other Primary Health Practitioner for a referral.
Do you have problems accessing the healthcare team?
If you have physical limitations that make it difficult to access your healthcare team or you live in a remote area, ask your team about telehealth (telephone, web-based or virtual) diabetes support and visits.
Know the members of your diabetes care team and stay connected with them! For information on how to communicate effectively with diabetes health team members, check out our article on this site How to communicate with the diabetes healthcare team.