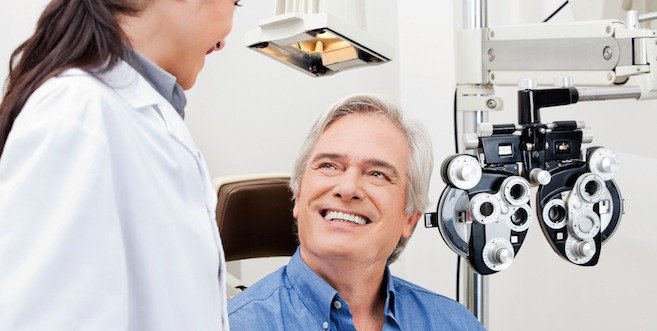 There is a strong link between diabetes and eye damage (also known as diabetic retinopathy). That's why it's important for people with diabetes to know the risk factors and warning signs of diabetes-related eye damage.
Diabetic retinopathy often has no warning signs
Diabetic retinopathy happens when there is damage to the retina (the retina is located at the back of the eye, and contains light-sensitive tissues). When this damage first starts to occur, there may be no symptoms, or very mild symptoms. That's why it's important to have your eyes checked regularly if you have diabetes. Diabetes Canada recommends that most people with diabetes should have an eye examination at least once every year.
What are the risk factors for diabetic retinopathy?
There are a number of risk factors, including:
How long you've had diabetes (people who've had the disease for a longer period of time have a higher risk)
Prolonged, elevated blood sugar levels. Click here to read more about what your target blood sugar levels should be.
High A1C (the target A1C for most people with diabetes is 7% or lower)
High blood pressure levels (the target for most people with diabetes is less than 130/80 mmHg)
High cholesterol levels (the LDL cholesterol target for most people with diabetes is less than 2 mmol/L)
Smoking (if you smoke, try to stop and seek support to help you quit)
All of these things can cause damage to the blood vessels in your eyes. Over time, this will cause blockage of the blood vessels that nourish the retina, cutting off its blood supply. As a result, the eye attempts to grow new blood vessels. But these new blood vessels don't develop properly and can leak easily. This in turn results in diabetic retinopathy.
Warning signs
While there are sometimes no signs or symptoms or early eye damage caused by diabetes, there can be some warning signs that you should be aware of. These include:
Blurred vision
Fluctuating vision (in response to changes in blood sugar levels)
Reduced clarity of vision
Decreased depth perception
Floaters (spots in your vision)
Blind spots in your vision
Loss of central vision
Double vision
Eye pain
Impaired colour vision
Diabetes doesn't have to lead to vision loss. You can prevent or delay diabetic retinopathy by managing your diabetes, especially by controlling your blood sugar and having regular eye examinations.