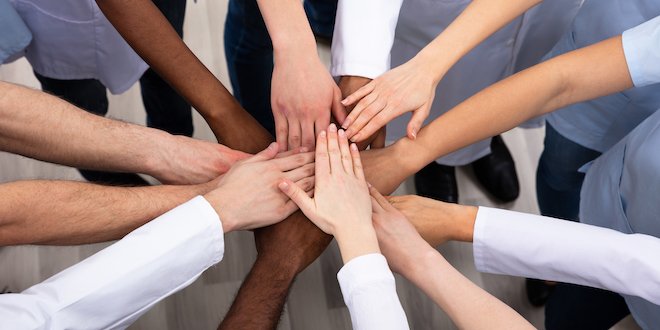 Congratulations! You are part of a big club … the diabetes club. It's probably one that you wish you hadn't joined, but like it or not, it's a club that you are a member of. The good news is that if you are managing your diabetes in a watchful way, the big prize is a long and healthy life, free of diabetes complications.
Your diabetes healthcare team is here to help, but you are the one in charge of this disease. You live with it 8,760 hours a year, but you only see your healthcare team 2 to 3 hours a year. So, it is your commitment and engagement that make things work.
Although diabetes is a common disease, your diabetes is unique. Your personality, your job, school or retirement activities, your living situation, and your other health issues make your diabetes special to you. No one can live that experience except you. That's why it's important that you get what you need out of the visits with your diabetes team, and let team members know what your goals are and what information you need to help you stay healthy.
What is a diabetes team? First, you are at the centre of the team. Next, you'll need a conductor: that's your primary care practitioner. People with family doctors or other primary health practitioners, such as nurse practitioners, get better health results. The primary health practitioner sees the "whole" person. While walk-in care may seem more convenient, seeing a different doctor each time is not to your benefit.
Some people, especially those with type 1 diabetes, also see an endocrinologist. If you see more than one healthcare professional, it's important to know who is in charge of tracking your regular tests and follow-up, so that you won't get lost between your primary care person and your specialist. The core team members also include a nurse and a dietitian. Other people on the team include a pharmacist, foot care specialist and other medical specialists, such as heart doctors (cardiologists) or kidney doctors (nephrologists).
Regular visits that focus only on your diabetes are helpful so that things don't get overlooked.
Here is what you should expect with regard to a diabetes-focused visit with your primary healthcare team:
Be seen 4 times per year.
Have a review of recent lab tests.
Have blood pressure measured at every visit, and your feet examined at least once per year.
See an eye specialist once per year.
Be assessed for the risk of heart attack or stroke.
Talk about physical activity, food choices, smoking, mood and sexual function.
To get the most out of your appointment, it's a good idea to prepare by doing the following:
Have any laboratory tests done ahead of time.
Bring your blood sugar records, as well as your blood glucose meter.
Bring a list of medications and let your healthcare team know when they need to be refilled.
Write down any questions you want to ask any member of your healthcare team.
For more information, or to watch a video of what a diabetes visit looks like click here.