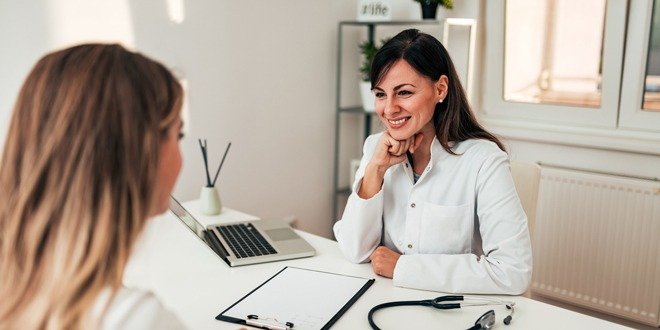 When it's time to check in with your diabetes healthcare team, make sure you come prepared!
Whether it's a daily blood sugar check, or an annual eye examination, regular testing is a very important part of your diabetes management. While all the tests and check-ups can be stressful and time-consuming, by breaking it down into manageable tasks you might find the process more agreeable. For example, try tracking daily, weekly, monthly and yearly tasks.
Daily diabetes check-ups
Blood sugar testing. Your healthcare team will help you determine how often you should check your blood sugar levels. People with type 1 diabetes must check their levels multiple times a day, however, those with type 2 diabetes usually may not need to check as often. This depends on if their sugars are under control and the medication they are on doesn't put them at risk of low blood sugars.
Foot inspection. Because people with diabetes are at risk for neuropathy (nerve damage, especially in the legs and feet), foot care is very important. Inspect your feet every day, and look for:

Cuts, cracks, blisters or calluses
Changes in the colour or temperature of your feet
Redness, tenderness or swelling
Ingrown toenails
Changes to the size or shape of the foot

Blood pressure testing. While your healthcare team will check your blood pressure during your diabetes-related visits, you can also check it with a home monitoring system. Checking your blood pressure at home is generally a better reflection of your usual blood pressure than when it's done in your doctor's office.
Diabetes check-ups every three months
When you visit your healthcare team every three months, they should check in with you about the following
A1C test. This is a blood test done in a laboratory, which your doctor will order. The A1C test is a measure of your blood sugar levels over the past three months. It is not a fasting test.
Blood pressure. People with diabetes are at higher risk of hypertension (high blood pressure). That's why it's important to monitor your blood pressure level regularly, and take action if it is high. In this event, your doctor may prescribe medications to help lower your blood pressure.
Weight. Maintaining a healthy weight is one of the most important ways you can keep your blood sugar at target, and prevent or delay diabetes complications. If you are overweight, your healthcare team can help you with some suggestions for losing those extra pounds.
Diet and physical activity. Eating a healthy diet and exercising regularly are two of the most important things you can do to manage your diabetes. Talk to your healthcare team to learn about tips for good nutrition and physical activity regimens.
Mental health. People with diabetes are at higher risk of mental health issues than those who don't have the disease. This includes conditions such as stress, anxiety, depression and "diabetes distress." You should always talk with your healthcare team if you are having emotional difficulties.
Annual diabetes check-ups
At least once per year, the following should be done:
Cholesterol test. Your healthcare team will order a blood test to determine what your level is. If your cholesterol is high, they may prescribe medication to help lower it.
Kidney function test. A kidney function test is important, as people with diabetes are at greater risk of kidney disease. There are two tests. One is a blood test to measure flow through the kidney and the other is a urine test to look for protein that may be leaking through the kidney if there is kidney damage.
Eye exam. Since people with diabetes are at risk for retinopathy, you should visit an eye care specialist (e.g. an optometrist or an ophthalmologist) every year for an eye test.
Foot exam. While it's important that you inspect your feet every day, your healthcare team will also do a thorough check annually.
Be prepared!
Use these quick tips to make the most of your diabetes check-up:
Bring a list of all prescription medications, including over-the-counter remedies, vitamins and minerals, and herbal supplements.
Bring your blood sugar readings or a download of your readings from your blood glucose meter. Your healthcare team can examine your logbook or review the levels from your meter and look for patterns of highs and lows, and how to avoid them.
Prepare your questions. It's easy to forget everything you want to say or ask your healthcare team, so preparing a list of questions ahead of time will help ensure that you get all the answers you need.
Questions you might consider asking your doctor
Are there any new apps I can use to track my progress?
Are there any new medications I should take?
How does high cholesterol affect me?
How often should I check my blood pressure?
What else can I do to prevent complications?
Could you recommend a referral for a dietitian, therapist or personal trainer?