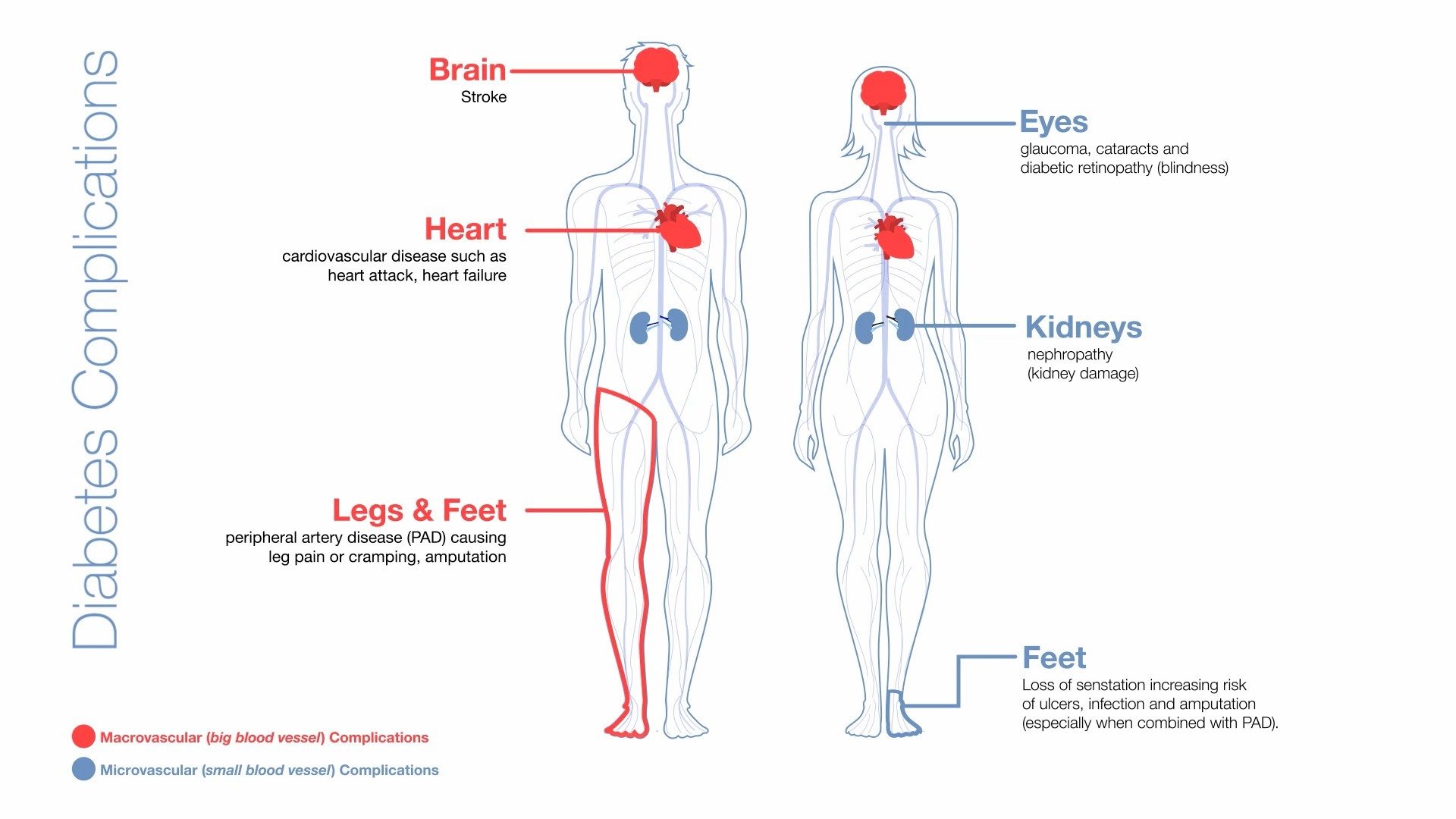 Having too much, or too little, sugar (glucose) in your blood will cause health problems in the short-term and even bigger issues over a longer stretch of time. When you have diabetes, it's essential to consistently manage your blood glucose levels to avoid health complications down the road.
Your physician or other healthcare providers can help you determine your optimal blood glucose range, and provide tips to better help you manage your blood glucose levels on target to stay healthy for the long-term.
What happens if I don't manage my blood glucose?
When your blood glucose levels are not within the target range, health issues can develop, even over a short period of time.
Hypoglycemia occurs when your blood sugar levels are too low. It can cause shaking, sweating, headaches, irritability and even loss of consciousness
Hyperglycemia happens when your blood sugar levels are too high. It causes tiredness, increased thirst, blurred vision, frequent urination and unintended weight loss
The health issues that can arise when you don't manage your blood glucose levels over the long-term are even more challenging, which is why it is important for you take an active part in knowing your target range. Consistently high blood sugar can damage the small blood vessels (microvascular) and larger blood vessels (macrovascular) leading to major health complications.
Here are some of the issues that can develop from having high blood sugar levels over a longer period of time:
What else can increase my risk of diabetes complications?
Other factors that can lead to microvascular and macrovascular complications when you have diabetes include:
Smoking
Being overweight or obese
Age
Sedentary behaviour
But remember, your diabetes care team will share the appropriate steps to empower you to better avoid complications.
You can also reduce your risk of cardiovascular disease and stroke by changing or eliminating certain risk factors. This includes taking medication to lower blood pressure or cholesterol, or medications to lower your overall cardiovascular risk. Find more information on the ABCDES prevention plan.
How do I know if my blood sugars are well-managed?
The best way to ensure you are managing your blood glucose levels properly is by regular monitoring. How frequently you check depends on the treatment plan outlined by your diabetes care team.
A blood glucose meter can be used to check your blood sugar at home. Your pharmacist or other healthcare providers can explain how to use the device so don't be afraid to ask questions. Find more information on home blood glucose meters here.
Testing your A1C levels is also important. According to Diabetes Canada guidelines, you should have your A1C tested every three months when your blood glucose targets aren't being met. Research shows that achieving a target A1C of equal to or less than 7% will prevent microvascular complications of diabetes and over a longer period of time may also reduce cardiovascular disease.
As well as monitoring your blood glucose levels, check in with your healthcare team to ensure you're on the right track, and to discuss healthy behaviour changes and medications that may be recommended.
Consistently managing your blood glucose levels takes effort but is well worth it. Maintaining optimal blood sugar targets will help delay or even prevent diabetes complications. This makes for a healthier, happier life with diabetes.