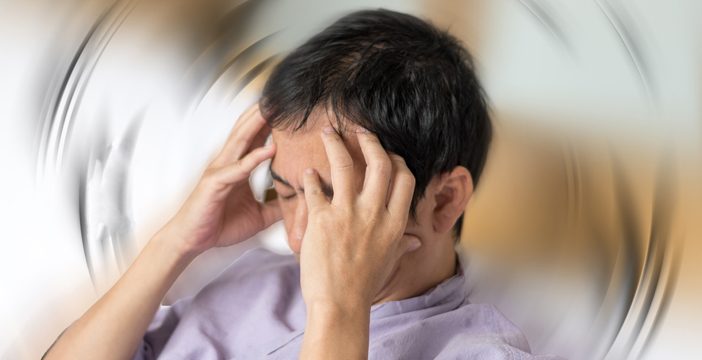 A stroke occurs when the artery that supplies oxygen-rich blood to the brain is blocked or when an artery in the brain ruptures or leaks blood. It's a serious, and often life-threatening condition, and the reality is that people with diabetes are two to four times as likely to have a stroke compared to those without. They're also at higher risk of a having a stroke earlier and with more severe outcomes. Fortunately, there are things you can do to reduce your risk of stroke when you have diabetes. Let's find out how.
What is the connection between diabetes and stroke?
As people with diabetes can have a build-up of sugar in their blood, over time, this extra sugar can cause clots or fat deposits inside the blood vessels leading to the neck and brain. When there are interruptions to the blood supply in the brain, it prevents oxygen from reaching the brain cells, which can lead to a stroke. If a stroke isn't treated fast enough, it can cause permanent damage to brain tissue resulting in disability or even death.
Are there different types of stroke?
There are three main types of stroke:
Ischemic stroke, which is the most common and happens when an artery supplying oxygen-rich blood to the brain is blocked
Hemorrhagic stroke, which occurs when an artery in the brain ruptures or leaks blood
Transient ischemic stroke or a ministroke, which happens when blood flow to the brain is blocked for a shorter time without any permanent neurological damage.
What are the signs and symptoms of stroke?
 When it comes to a stroke, getting treatment as soon as possible can lead to better outcomes. That's why it's especially important to know the signs and symptoms so you can act quickly. Some key signs of a stroke include:
Weakness or numbness in your face, legs or arms, especially if it's only on one side of the body. Check in a mirror to see if your face droops when you try to smile, or if you have trouble lifting one side of the body if you go to raise both hands.
Vision changes, with either sudden loss of vision or trouble seeing in one or both of your eyes.
Loss of balance, with feelings of dizziness or trouble walking.
Confusion, where you may suddenly have trouble speaking or understanding what someone is telling you.
A sudden, severe headache, which develops with no apparent cause; the headache may be accompanied with vomiting or dizziness.
Here's a simple test using the acronym 'F-A-S-T' to help you determine if you or someone you're with has had a stroke: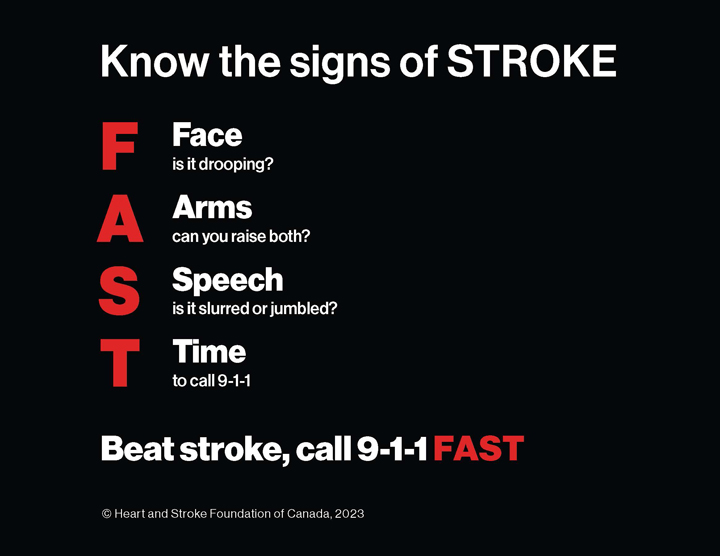 What are ways to prevent stroke if I have diabetes?
If there are concerns about hardening arteries and potential artery blocks when you have diabetes, your healthcare provider may suggest lifestyle changes and medicines that will help. In the meantime, some key things you can do to reduce your risk of future stroke include:
Maintaining a healthy weight, by eating well and exercising regularly
Controlling your blood sugar levels to prevent sugar buildup in the blood
Limiting alcohol
Not smoking
Working with your healthcare provider to ensure your cholesterol is on target
Checking your blood pressure often and reporting any issues to your doctor or other healthcare provider. Get tips to manage your blood pressure here.
Checking with your physician on whether a daily aspirin, or any other medications would be beneficial in preventing stroke.
A stroke is a serious emergency, so if you suspect you or someone you know has had a stroke, seek medical attention immediately. The good news is that even with diabetes, by managing your blood sugar levels, blood pressure and cholesterol—and maintaining a healthy weight with proper nutrition and regular exercise—you can reduce your risk of stroke. It pays to be proactive.