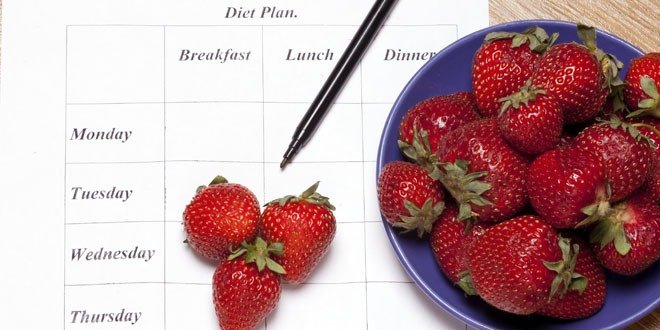 Setting goals for healthy eating doesn't have to happen all at once. In fact, if you set and achieve a goal each day – or each week – you'll have something to celebrate! Think about taking small, manageable steps at every meal.
Here are some tips to help you along the way:
• Simplify. Consider variety and freshness. Focus on finding foods you love and easy recipes that incorporate fresh ingredients.
• Start slow and build gradually. Trying to make your diet healthy overnight isn't realistic or smart. The pressure of making big changes is difficult. Instead, take small steps: try a new vegetable, or switch from butter to olive oil when cooking. As these small changes become routine, you can keep adding more healthy choices along the way.
• How do you feel after eating? Think about how full you feel after a meal. This will help you plan future meals, and you'll know when to say "stop!" If you still feel hungry after a meal, load up on vegetables that are low in calories and carbohydrates such as cucumber, broccoli, spinach, kale.
When figuring out how much food you should eat at any given meal, your hands are a simple tool! Diabetes Canada "handy portion guide" can show you how.
The plate method is another simple and easy way of calculating how much – and what kinds – of food you can eat at lunch and dinner.
Every change you make – whether large or small – matters! Be kind and patient with yourself. You don't have to be perfect every single day, and you don't have to completely eliminate the foods you love, either. The long-term goal is to feel healthy and have good energy levels. Don't punish yourself over the odd misstep … every healthy food choice you make counts.
5 tips to help you stay on track with your nutritional goals
1. Eat three meals per day at regular times and space meals no more than six hours apart. (You may benefit from a healthy snack, especially if you are taking insulin; ask your healthcare team if snacks fit into your nutritional plan.)
2. Limit sugars and sweets; for example, sugar, regular pop, desserts, candies, jam and honey.
3. Limit the amount of high-fat food; for example, fried foods, chips and pastries.
4. Eat more high-fibre foods; for example, whole-grain breads and cereals, lentils, dried beans and peas, brown rice, vegetables and fruits.
5. If you are thirsty, drink water.
My nutritional goals
If you are thinking of making healthy changes to your nutritional plan, consider the information above and decide what you would like to commit to changing. Use the checklist below (and see printable format at the end of this article) to decide what you'd like to do, and check off your successes each time you make a change. By recording your successes, you're more likely to stick to it over the long term!
| | |
| --- | --- |
| I will: | ✔ I did it! |
| Eat three meals a day, at regular times | |
| Drink water, instead of pop or fruit juice | |
| Switch to whole grain bread or roll, instead of white bread | |
| Increase fibre in my diet | |
| Eat 3 servings of fruit per day | |
| Introduce a new high fibre grain into your weekly menu, such as quinoa or brown rice | |
| Try a new and interesting-looking vegetable | |
| Eat dark green, leafy vegetables, such as kale or spinach more often | |
| Choose legumes, such as lentils or pinto beans at least once a week in place of meat | |
| Try whole grain pasta, instead of regular pasta | |
| Eat fish – instead of beef or pork – for dinner, two times per week | |
| Broil, roast or bbq chicken for dinner, instead of frying | |
| Try a low-fat cooking method for beef, instead of frying | |
| Use herbs and spices to flavour meat, instead of salt | |
| Use cinnamon and nutmeg to flavour dessert, instead of sugar | |
| Try poaching or broiling fish or meat, instead of frying | |
| Try a meatless meal, by eating tofu or legumes at least once per week | |
| Replace high-fat cheese with a low-fat cheese, such as ricotta | |
| Switch to a lower fat milk | |
| Reduce my portion size of carbohydrates and/or protein by using the plate method to plan my lunch and dinner | |
| Reduce my portion size of carbohydrate and/or protein by using the handy portion guide to plan my lunch and dinner portions | |
| Write in your ideas for goals in the spaces below: | |
| | |
| | |
| | |
Print out your plan!
Choose the goals that you like and stick to them. The small goals you choose now will lead to some big changes in your nutrition plan.
Download the Set your healthy eating goals