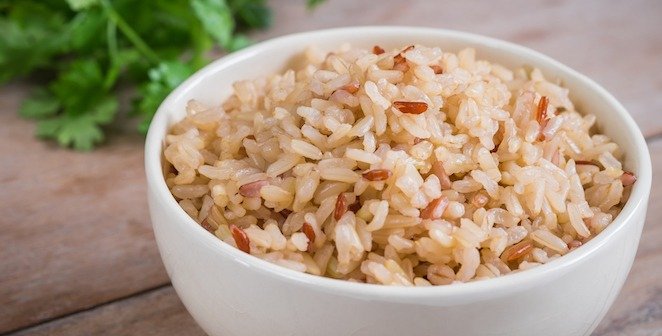 For more than half of the world's population, rice is a staple food. For the rest, it's a frequent side dish. Watching your rice intake is essential in managing your diabetes properly because rice is a carbohydrate that will affect your blood sugar levels.
The scoop on types of rice
Not all rice is created equal. Rice varies in shape, size and texture, and it comes in a variety of colours too. In fact, there are more than 40,000 varieties of cultivated rice around the world. That's a lot of rice! It's important to read the label and choose varieties that offer the most nutrients in contributing to a healthy diet.
Rice is also high in carbohydrates. This is important to consider if you have diabetes, because managing your carbohydrate intake will help to avoid blood sugar spikes. Some types, such as brown rice, are whole grains and therefore a healthier choice. For example, one cup of regular brown rice contains about 15 grams of carbs and more than 1 gram of fibre. The same cup of white rice may have the same number of carbs but a lot less fibre and other nutrients.
In maintaining a healthy diabetes diet, it makes sense to choose more nutrient-packed, fibre-rich varieties in your meal plan, such as brown, wild or sprouted rice.
Can white rice increase my diabetes risk?
Research has shown that eating lots of white rice (5 or more servings per week) can increase your risk of developing type 2 diabetes. In fact one study showed that too much rice can be especially risky for people of Asian descent[1]. That's because white rice has a particularly high glycemic index (GI), which is the scale that ranks  carbohydrate containing food/drinks by how much they increase your blood sugar levels. In other words, consuming foods like white rice too frequently can make your blood sugar levels spike out of control.
[1] White rice consumption and risk of type 2 diabetes: meta-analysis and systematic review BMJ 2012;344:e1454
Should I eliminate white rice from my diabetes diet?
You don't have to give up white rice entirely, because your body actually needs carbohydrates that come from foods like rice. Just be wary of the quantity you eat and whenever possible, opt for brown or wild rice over white, since these types have more nutrients and a lower GI.
To further lower your diabetes risk, have one serving (half a cup) of rice no more than four times a week. Take into account any added sauces that could contain sugar and carbs as well. Find out more on adding carbohydrates as part of a healthy diabetes diet here. Here's more on carb counting too.
Swap in other rice alternatives
There are lots of other healthy alternatives to take the place of rice in your meals. Consider swapping rice for grains such as quinoa, buckwheat and wheat berries, which have less effect on your blood sugars (i.e., lower GI) and can be just as tasty.
Pulsed, cooked cauliflower 'rice' is another healthy substitute. Find more recipe ideas here.
Bottom line on eating rice
Choosing brown or wild rice over white is a good idea, but an even better idea is eating less rice overall. Even brown rice is high on the glycemic index in comparison to other carbs. Try serving it with foods that are high in fibre and will have little effect on blood sugar levels, such as beans and vegetables. Here's a good recipe for pilaf made with brown rice and lentils.
Remember to watch your portion sizes too, as blood sugar control is closely related to the amount of food you eat. Keeping all this in mind, rice can be part of a healthy diet, even when you have diabetes.