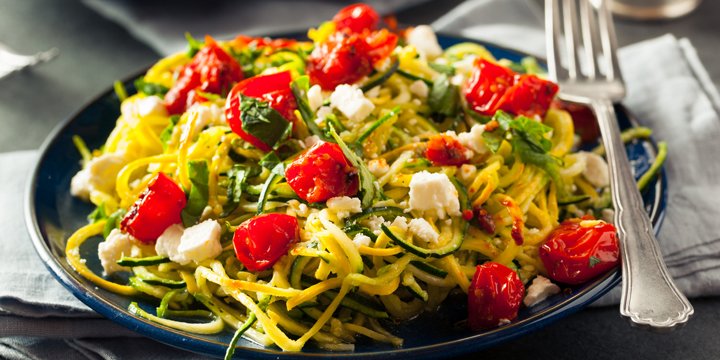 Pasta is one of the most popular foods in Canada. It is a versatile, inexpensive and quick-to-prepare option. Whether served cold as a pasta salad, or as a steaming bowl of noodles with your preferred sauce, pasta is a staple in most homes.
One of the biggest myths about having diabetes is that you can no longer enjoy the foods that you have always loved, such as pasta. Because pasta is packed with carbohydrates, which can increase blood sugar when eaten in excess, it can be problematic for some people. The problem is not the grain itself, but rather the quantities that Canadians are accustomed to eating.
Healthy tips for eating pasta
If you have diabetes, here are some ways to continue to enjoy traditional white or whole wheat pasta:
Measure the pasta and go easy on the portions. The appropriate serving size for most people is not what you get at a typical restaurant. A portion of pasta should not cover the entire plate but rather only ¼ of the plate, and should be the size of your fist or about 1 cup (250 mL).
Pair it with protein. Adding lean protein, such as fish, chicken, tofu or egg, to your pasta meal will help lower the blood sugar response and avoid spikes.
Cook it al dente. Firmly cooked pasta, also known as al dente pasta, has a lower Glycemic Index than overcooked or soft pasta. This can help slow the absorption of carbohydrates, resulting in lower blood sugar after the meal than soft pasta.
What about pasta alternatives?
If you are looking for alternative pasta ideas that may work better for you and your blood sugar levels, here are some options that you can find easily in the grocery store.
Ancient whole grains make a great alternative to traditional pasta. Although they may not resemble the appearance of pasta, they fulfill the heartiness of pasta. As well, just like pasta, they take on the flavour of sauces. More common ancient grains, such as quinoa, barley, couscous and bulgur wheat, have gained popularity in Canada in recent years. Less common grains include buckwheat, farro, and freekeh.
Soba noodles are a type of noodle made from buckwheat and, like the other ancient grains, are rich in fibre and protein, which helps slow digestion and keeps blood sugar more stable. If you haven't tried soba noodles, check out this recipe for something new and different. Because these grains are also rich in carbohydrate, you will still want to be careful with your portion size. Aim to fill ¼ of your plate with these grain options and ¼ of your plate with protein such as fish, tofu, lean poultry or meat. The other ½ of your plate will be filled with plenty of colourful vegetables.
However, if having a full plate of pasta is your preference, there are plenty of pasta alternatives that you can enjoy in larger quantities while not compromising blood sugar management or giving up on taste.
Squash is often used as a substitute for pasta. It has a mild, slightly sweet flavour that goes well with tomato-based sauces. When spaghetti squash is cooked, its flesh becomes stringy, resembling the look of spaghetti. Other types of squash can be spiralized and topped with your favourite sauce. The benefit of this alternative is that when compared to traditional pasta, you can eat a large volume for the same amount of carbohydrates. In fact, 1 ½ cups cooked, shredded spaghetti squash is equal in carbs to 1/3 cup of cooked pasta.
Another low-carb vegetable option is zoodles or zucchini noodles. You can make these by using a julienne peeler or spiralizer to get thin strips of zucchini that resemble noodles. A large hearty serving of zoodles contains practically no carbohydrates. You could sauté, boil, or microwave the noodles and top with some protein and sauce such as chicken and pesto, or try this recipe for zucchini noodles – cacio e pepe.
Shirataki noodles are translucent Japanese noodles made from the fibre that comes from the konjac plant. Shirataki noodles can be found in the refrigerator section in most grocery stores next to where you would normally find tofu. These filling, low-carb, low-calorie noodles can be a great substitution in stir-fry recipes or chicken noodle soup.
Pastas made with chickpeas, lentils and black beans, also known as pulses, look like traditional pasta and are prepared the same way you would prepare regular pasta. The difference is that these noodles are packed with protein and fibre. Although these options are not very low-carb, compared to regular pasta, they won't raise your blood sugar as high.
Whether you are looking for a pasta alternative to help keep your blood sugars in target or are looking for something different to add variety to your meal plan, try some of these pasta alternatives with your preferred sauces or in your favourite recipes.