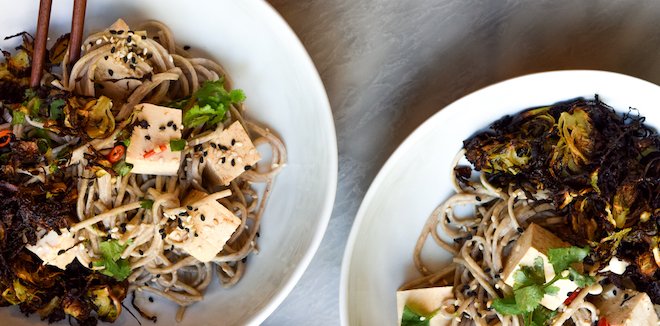 There are so many deliciously complex flavours and textures here.  Your tastebuds will be singing songs of happiness.  All parts of this bowl can be made separately and used for different meals in other combinations.  I make these crispy Brussels sprouts as a regular side dish.  By the time all the kitchen lurkers pass by, only half of them ever make it to the dinner table!
INGREDIENTS
8 ounces of soba noodles
Nutty Sesame Sauce
3 tbsp tahini
2 tbsp water
1 tsp tamari or light soy sauce
1 tsp honey
1 tsp sesame oil
½ tsp red chili flakes
juice of 1 lime
For the Tofu
1 package (approximately 1 pound/454g) of firm or extra firm tofu
2 tbsp apple cider vinegar
1 tsp low sodium tamari or low sodium soy sauce
2 tbsp water
1 tsp grapeseed or canola oil
¼ cup toasted sesame seeds (I like a mix of black and white)
For the Brussels sprouts
1 pound Brussels sprouts
Oil spray
4 tbsp cilantro, optional
1 red chili pepper, sliced in rounds
DIRECTIONS
Shred the Brussels sprouts using the slicer on the food processor or slice them thinly with a knife. You can also buy shredded Brussels sprouts. Place them on a parchment-lined cookie sheet. Spray with oil and toss. Bake for 30 minutes or until golden and crispy.
In the meantime, cut the tofu into 1-inch cubes. In a shallow dish, mix the apple cider vinegar, tamari, water, oil, and sesame seeds. Place the tofu cubes into the shallow bowl with the marinade. Allow to marinate while you cook the soba noodles.
Cook the soba noodles according to package directions and rinse in cold water once cooked.
Make the Nutty Sesame Sauce. Whisk all of the ingredients together in a small bowl. Pour over the noodles and toss to combine.
Divide soba between 4 bowls.
Divide the tofu between the four bowls. Divide the crispy Brussels sprouts between the four bowls.
Sprinkle each bowl with cilantro and sliced chili peppers.
Serves 4