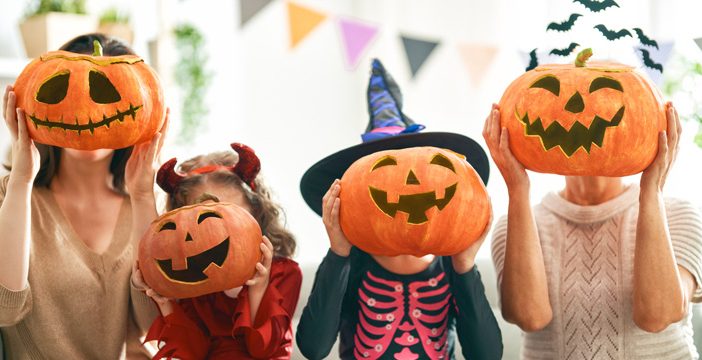 Just because Halloween is synonymous with sugary treats doesn't mean children (and adults) with diabetes can't celebrate in some ghoulish fun. Here are some tips to help you and your loved ones celebrate Halloween without sending blood sugar levels out of whack.
Should I let my child go trick or treating if they have diabetes?
Yes, with some planning, children with type 1 and type 2 diabetes can partake in the fun of trick-or-treating along with their friends and siblings. In fact, diabetes should never affect children from having regular childhood experiences.
How do I manage the stash of treats that come home?
First off, be sure to store candies purchased for handing out on Halloween night out of sight, to avoid temptation before the big day. Once trick-or-treating is completed and you've looked through your child's bag of goodies to remove potential hazards (e.g., open or tampered treats), here are some tips to help limit a sugar rush:
Have children wait to get home before dipping into their loot bag. Send along a healthy snack so they're not tempted.
Once home, help your child pick a few favorite candies to keep (get rid of the rest), and then work them into the week's meal plan by counting the carbohydrates. Allow them to eat some candy Halloween night, before putting the "chosen" ones away.
Offer your child some non-sugary treats (e.g., supplies for school, small toys or themed stickers) in exchange for candy. Or have them "sell back" their candy for money or non-food items.
Make a schedule for when your children can indulge in a Halloween treat (e.g., once or twice a week). Moderation is good for the whole family, so have everyone follow the same schedule.
Teach older children how to cover extra carbs from their Halloween treats with the appropriate amount of extra insulin.
Let children enjoy their sweet treats with or immediately after a meal to reduce the impact on their blood sugar levels.
Donating extra candy to a local hospital or local charity can also feel rewarding for the whole family.
Keep in mind that all that walking while trick-or-treating can affect a child's blood sugar levels too. Pack a healthy snack they can have en route and make sure your child has had a balanced meal before heading out.
It's also a good idea to pack glucose tablets or a fast-acting carb to have on hand to treat any potential blood sugar dips for your child on the road.
What are some suggestions if I'm entertaining at home?
The good thing about throwing a Halloween party yourself is that you can always ensure there are plenty of healthy options to counter the sugary ones. Some options include bowls of nuts, cut up vegetables with hummus or bean dips, whole-grain crackers, fibre-rich fruits, lean meats or even mugs of pumpkin soup. Here are more appetizer ideas.
To limit the focus on food, put extra effort into decorating your house or yard. Host a costume party and offer prizes. Have children and other guests carve pumpkins or make Halloween crafts. Or have someone dedicated to face-painting or leading fun activities such as a Halloween-inspired scavenger hunt.
It's always better to focus on the friends and family who are celebrating together, rather than what you can or cannot eat.
If you're heading to a party on Halloween night where the buffet may tempt you, eat a healthy meal at home with protein and fibre to keep your blood sugar steady and your stomach full. If you need to sample the food, opt for the complex carbs that will give you more lasting energy and take longer to break down in your system (e.g., whole-grain crackers, healthy dips and fibre-rich vegetables and fruits). Be sure to go easy on the alcohol too which can wreak havoc on your blood sugar levels.
Carb counts for common Halloween treats
Curious about the number of carbohydrates, fat and calories in Halloween treats? Here are some common ones:
Hersey's kisses (3 pieces): 67 calories, 4 grams fat, 8.3 grams carbs
Kit Kat (mini size): 60 calories, 3 grams fat, 8 grams carbs
M&Ms (plain, mini size): 73 calories, 3.3 grams fat, 10.6 grams carbs (with peanuts that's 90 calories, 5 grams fat, 10.5 grams carbs)
York Peppermint Patty: (mini): 50 calories, 1 grams fat, 11 grams carbs
Jolly Rancher (1 piece): 23 calories, 0 grams fat, 5.6 grams carbs
Snickers (mini): 80 calories, 4 grams fat, 10.5 grams carbs
Gummy Bears (11 pieces): 100 calories, 0 grams fat, 30 grams carbs
Twizzler's Licorice (3, six-inch pieces): 110 calories, 0 grams fat, 15 grams carbs
Lay's Original Potato Chips (16g): 90 calories, 6 grams fat, 9 grams carbs
With proper planning, children and adults with diabetes can enjoy Halloween too. While sugary treats aren't off limits completely, remember to indulge in moderation and consume sugary treats with or after a meal instead of as standalone snack. This will go a long way towards helping keep blood sugar levels in check even during this frightfully fun season!