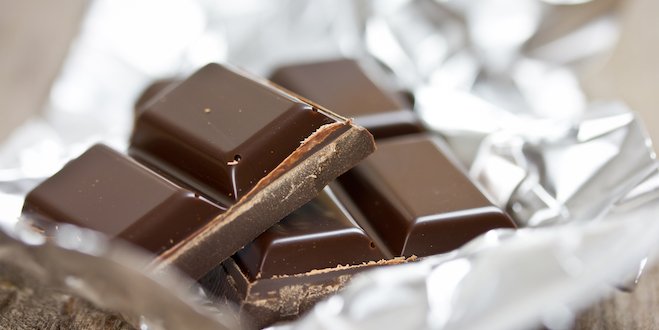 Chocolate is perhaps the most frequently craved food, especially among women. It may be because when we eat sweet and high-fat foods – such as chocolate – serotonin is released, making us feel happier. Who doesn't want to feel happier?
Can chocolate be part of the diabetes diet?
Having diabetes doesn't mean you can never enjoy the pleasure of eating chocolate, but it does mean that it should be eaten as part of a healthy meal plan on occasion; this goes for all people, whether they have diabetes or not. Portion control is the key to enjoying foods like chocolate. Limit yourself to a very small portion and save it for special occasions. Some types of chocolate, such as dark chocolate, might even have health benefits, in moderation of course.
Does chocolate have any health benefits?
It is true that chocolate contains several beneficial nutrients. However, keep in mind that if a large amount of chocolate is consumed, it will raise blood sugars and the high calories in chocolate could lead to weight gain. High blood sugars and obesity can increase your chances of heart disease and other problems.
The health benefits of chocolate apply only to dark chocolate. The darker the chocolate, the better the health benefits. Dark chocolate contains antioxidants and flavanols. Antioxidants help prevent cell damage caused by high blood sugars; flavanols can lower blood pressure, improve blood flow and increase sensitivity to insulin, which helps with blood sugar control.
Studies of people with diabetes and high blood pressure showed that eating dark chocolate with a high cocoa content for 16 weeks lowered blood pressure, improved insulin resistance and increased HDL cholesterol levels (the "good" cholesterol).
How much chocolate can I eat?
As with so many other things, too much of a good thing is not a good thing! Thinking about chocolate as being good for you can tempt you to eat more of it than you should. While dark chocolate does have some health benefits, it also contains a lot of calories and a moderate amount of sugar; eating too much will lead to weight gain and higher blood sugar levels, especially if it is eaten over and above your usual meal plan.
Researchers can't agree on a commonly acceptable amount of dark chocolate to gain the benefits of eating it. Some studies suggest that people should consume no more than one ounce of dark chocolate a few times a week.
What type of chocolate is best?
Dark chocolate contains more cocoa and less sugar than milk chocolate – the higher the amount of cocoa, the better it is for you. Not all dark chocolate is good for you, though. Look for dark chocolate with at least 70% cocoa. White chocolate is the fatty part of the cacao bean. It actually contains no cocoa and is higher in calories and sugar than dark chocolate or milk chocolate. Milk chocolate also has more sugar than dark chocolate. Consuming milk chocolate or white chocolate offers no health benefits.
What about 'sugar-free' chocolate?
Sugar-free chocolate is sometimes called 'diabetic chocolate.' It is made by replacing the sugar with polyols, an alternative source of sweetener such as maltitol or sorbitol. These are also known as sugar alcohols. Polyols don't have much of an effect on blood sugars, but you don't want to consume too much in one day as they can have a laxative effect. Also, sugar-free chocolate can have just as many calories as ordinary chocolate (and sometimes more) and it's usually more expensive.
Suggested ways to enjoy dark chocolate
Aside from enjoying it straight, there are many ways that you can enjoy a bit of dark chocolate to satisfy a chocolate craving and to get the health benefits. Keep some cocoa powder or dark chocolate chips on hand; it's a great way to help with portion control:
Add some cocoa powder or dark chocolate chips to hot or cold cereal.
Melt some dark chocolate to dip fresh fruit as a decadent dessert.
Make your own trail mix with dried fruit, nuts and dark chocolate chips.
Add a tablespoon of cocoa powder to your coffee for a great mocha flavor.
Regardless of the type of chocolate you choose to enjoy, remember it should be an occasional treat for anyone, not just for people with diabetes. Enjoy it in small doses and savour every bit of it!