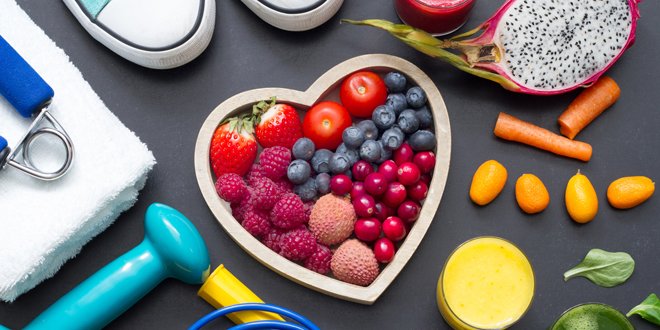 We're all spending a lot more time at home these days, especially if it's our workplace too. As we settle into a socially distant winter ahead, here are some tips to ensure you're still eating healthy food and getting exercise while working at home.
The joys and woes of teleworking
If your home has become your new workplace during COVID-19, you're likely balancing some challenges along with the benefits
There's no doubt that working at home provides benefits such as:
Having no commute time
A more flexible schedule
Potential cost savings on wardrobe
Easy access to a stocked fridge and kitchen
But then there are some challenges too, such as:
More screen time
Sitting more and moving less
Longer work hours
More opportunity to snack throughout the day on unhealthy foods
5 tips for managing food while working at home
The good news is, with just a little planning, you can use your current at-home work situation to eat better than ever. Here are some ways to get healthy foods into your daily menu so you're not tempted to graze on junk food.
1.Keep your office out of the kitchen: You'll be less prone to check out the fridge or pantry for snacks if they're not in your direct line of vision. If your space is too small to stay out of the kitchen, try keeping a food log in order to review your daily habits.
2.Don't forget to eat: Speaking of breaks, don't wait until your stomach starts grumbling and your blood sugars dip, to eat something. Make a plan (see below) and set a timer if needed. You'll be more alert and productive if your blood sugars are well managed too.
Here are some nutritious snacks to try between meals to ensure your blood sugar levels don't go too low.
3.Plan your lunch and break times: To ensure you are eating regularly throughout the day, make a plan of when you'll stop for lunch and snacks. Just as you wouldn't graze all day in your regular workplace, keep to a schedule at home as well. Be sure to stock your fridge and pantry with healthy choices so you're not tempted to fill up on junk food.
Here's more information on planning your meals for a busy work week.
4.Drink lots of water: When you don't drink enough water, it can lead to headaches and fatigue. Keep a water bottle by your workspace so you'll remember to sip throughout the day and avoid dehydration.
5.Focus on eating: Resist the temptation to eat through lunch or snack during a conference call. Not only do we tend to eat more when we're distracted, we don't enjoy our food as much. Instead, sit down away from the computer and take a necessary break to enjoy your food fully.
Here's more on the importance of mindful eating.
5 tips for managing exercise while working at home
Just because you're at home working doesn't mean you can't keep up a regular exercise regime. Here are several ways to keep moving even when you're stuck at home.
1.Plan to move: Carve out time in your schedule to exercise every day. Make a plan for the week and put it in your calendar and treat it as a non-negotiable meeting with yourself. If your workday is too hectic, plan exercise earlier in the day or after work hours.
2.Get up every hour: Even if you're exercising every day, it's never good to sit for prolonged periods in front of your computer screen. This can put you at higher risk for type 2 diabetes, heart disease and high blood pressure. Set a timer every hour to remind you to get up and move. Try walking up and down the stairs for a few minutes or do a few jumping jacks to boost your energy.
3.Sneak in exercise: Find ways to fit in a little movement while you're working too. Walk around the house while you're on a call, or do some leg stretches from your office chair. Moving, especially walking, has been shown to stimulate creativity and enhance focus —so consider it part of doing your job better.
Here are more ways to get physical activity into your work day at home and some good stretches to try.
4.No equipment, no problem:  If you don't have a gym or proper exercise equipment on hand, make use of what you do have. Sit-ups, pushups, lunges, yoga and stretches can all be done with no equipment at all. Household items, such as water bottles and soup cans, are good substitutes for weights in the case of weight training exercises.
Here are more exercises to try at home. And here's some more information if you're looking to invest in some exercise equipment for home.
5.Use technology:  The internet is filled with apps and videos that can help you exercise and keep on track of your movement throughout the day. Join an online class to exercise with others, or collaborate with friends to meet at a specific time on video to exercise together. Here's a list of some good online fitness options.
Remember, just because you're working at home doesn't mean you can't exercise and eat well. In fact, doing both will help you feel better overall so you can better focus on your work throughout the day.