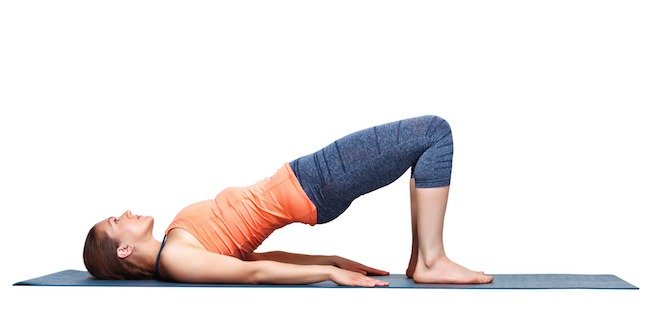 There's no place like home! At home exercise is a great option on stormy or wintery days.
Resistance exercise and cardio exercise both help manage blood sugars. You can combine these exercises in a quick workout without even leaving your home.
What do you envision when someone says 'home gym'? Do you picture stationary bikes and treadmills, huge multi-purpose weight machines and chin-up bars? Do you think, 'too much money' and 'not enough space'? While those things may be found in a home gym, I'm going to share with you some exercises that you can do at home, at the office or in your hotel room when you're travelling. By alternating strength/resistance exercises with brief cardio bursts, you can do an effective workout almost anywhere, with very little equipment and for almost no money.
Cardiovascular exercises
These exercises improve cardiovascular fitness, tone muscles in the lower and upper body, and improve bone health, balance, coordination and agility.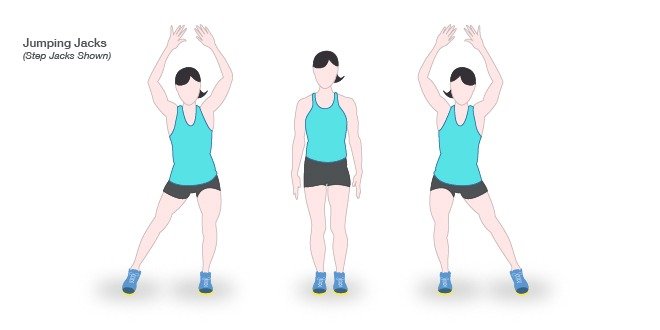 Jumping jacks (think snow angels standing up, without the snow)
How: Stand with your arms by your sides and your feet hip-width apart. Jump off the ground and move your legs so your feet land wider than shoulders, simultaneously raising your hands above your head. As soon as you land, go into another jump, bringing your arms and legs back to the starting position before you land.
Why: Jacks can be done anywhere you have space.
Requirements: A good pair of shoes.
Precautions: Jumping jacks are a high-impact exercise.
Variation: Step jack (this takes the impact out of the move). To do the step jack, start with your feet together and your arms by your sides. Step your right foot out to the side and touch your toe out wide. As you step your leg out to the side, reach your arms out to the sides and up over your head. Then step your foot back in and bring your hands back down to your sides. Now do this with your left foot. Keep alternating. Move quickly to make the activity more challenging.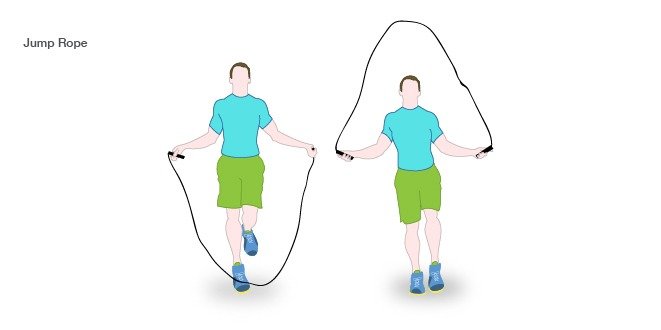 Jump rope (it's not just for the playground)
How: Turn a skipping rope repeatedly while jumping over it. Chanting rhymes is optional. Turn the rope with the wrists, not the arms, and land softly. Only jump high enough to clear the rope.
Why: Jump ropes are inexpensive, travel well and can be used anywhere you have space.
Requirements: A jump rope, a good pair of shoes and patience!
Precautions: Jumping rope is high impact. It looks easy, but beginners may need practice.
Variations: Jumping on one foot, alternating feet.
Strength/resistance exercises
Strengthening your muscles helps you to perform everyday activities and also helps protect your body from injury. Do a variety of exercises to target your major muscle groups.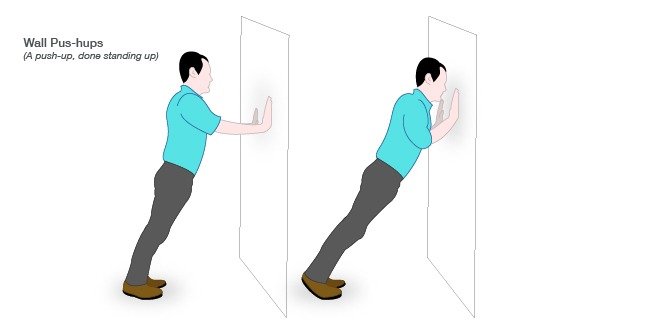 Wall push-ups (a push-up, done standing up)
How: Stand in front of a wall. Place your palms against the wall at shoulder level and shoulder-width apart. Back your feet a couple of feet away from the wall so that your elbows are bent as you lean on an angle into the wall. Bend your elbows as you lower your upper body toward the wall in a slow, controlled motion. Keep your feet flat on the floor. Make sure to keep your back straight. Pause. Then, slowly push yourself back until your arms are straight. Don't lock your elbows.
Why: It is easier than a push-up. You don't need to get down on the floor. It will strengthen your arms, shoulders, and chest.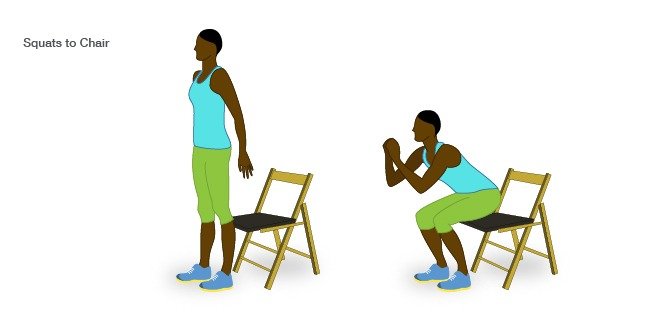 Squats to chair
How: Stand directly in front of a sturdy chair. Your feet should be slightly more than shoulder-width apart. Place your weight more on your heels than on the balls of your feet. Bend your knees as you lower your buttocks towards the chair in a slow, controlled motion. Either touch your bum to the chair or sit down on it. Pause. Then push through your feet and squeeze your bum and slowly rise back up to a standing position. Keep your knees over your ankles and your back straight. Make sure that your knees never come forward past your toes.
Why: Squats strengthen the entire lower body and core. This helps you to climb stairs, pick things up off the floor and get out of chairs without struggle.
Variations: If you can't sit all the way down, or if you feel pain or discomfort, place a couple of pillows on the chair or only squat down four to six inches.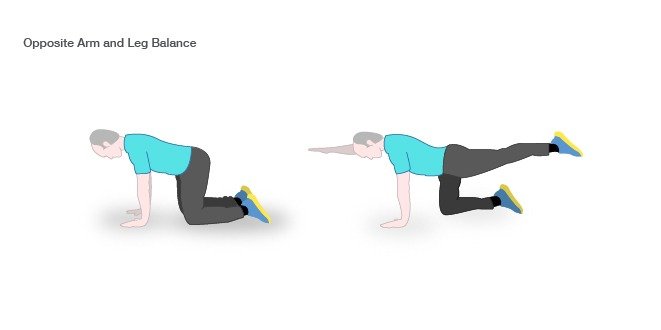 Opposite arm and leg balance
How: Get on all fours with your hands directly under your shoulders and knees under your hips. Keep your back flat and abdominal muscles tight. Lift one hand and reach straight in front of your shoulder while lifting your opposite foot straight behind your hip. Hold for three breaths (or as long as you can maintain balance), and then lower your hand and foot toward the floor to return to start. Repeat on the opposite side. This is one repetition.
Why: This exercise is great for improving balance and coordination. It strengthens your entire core, including your glutes, lower back and abdominal muscles.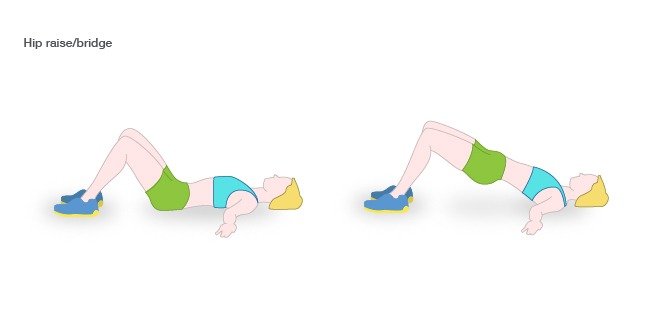 Hip raise/bridge
How: Lie flat on your back with your knees bent and feet flat on the floor. Press your lower back against the floor. Keeping your core tight, squeeze your glutes (butt cheeks) and raise your hips so your body forms a straight line from your shoulders to your knees. Pause for five seconds – squeezing your glutes tightly the entire time – then lower your body back to the starting position.
Why: These work your hamstrings and glutes. Bridges are an excellent exercise for people who sit for many hours a day. They also help to strengthen your back muscles, which can improve posture; this is particularly important for people who sit a lot.
Change up your at home exercise
You can choose the sequence of the exercises in your workout. Alternate between the strength exercises and 30 seconds to three minutes of cardio exercise. Here's an example for a beginner:
30 seconds jumping/step jacks
10 wall push ups
30 seconds jumping rope
10 squats to chair
30 seconds brisk marching on the spot
10 repetitions of opposite arm and leg balance
30 seconds jumping/step jacks
10 hip raise/bridge
30 seconds jump rope
To add more challenge to the workout, you can add repetitions or repeat the circuit. Aim to complete a workout at least three times per week.
Always speak with your doctor before trying a new exercise. If you're unsure how to do these exercises, talk with your healthcare team or a certified fitness trainer.