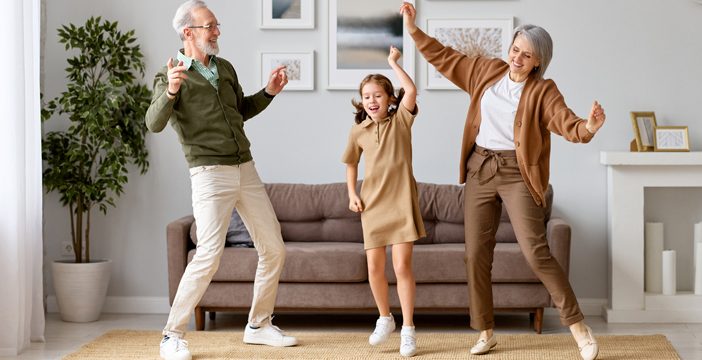 Whenever you are restricted from going outside, there's a tendency to retreat to the pleasures of the couch. But how do you engage in physical activity when you're stuck indoors? Here are some great tips and physical activity ideas, both for you and for the person with diabetes that you help support.
Diabetes Canada recommends a minimum of 150 minutes per week of moderate to vigorous aerobic physical activity for people with diabetes, plus resistance exercises at least 2-3 times a week.
Follow an online exercise program
Many people need the structure and motivation of a recognized exercise program to get going. You'll find a wide variety of online exercise programs to choose from, with countless options to suit different preferences. For example, instead of going out to a pilates, yoga or tai chi class, you can follow the same routines at home using the world wide web!
Here are a few things to consider when searching for an online fitness program:
Make sure the program is being provided by an accredited fitness specialist
Spend time researching to make sure the program meets your goals and timeframe
Although there are free programs, if you pay for something, you will be more likely to commit to using it
Remember that there will be no one spotting your technique so it's important to choose something within your capabilities.
In-home fitness equipment
If there is room in the home, treadmills, exercise bikes (stationary bikes) and elliptical machines can provide a good cardiovascular workout. To learn more about this equipment, read Dr. Sarin's blog, Exercise tools for winter workouts. For those with less space, exercise weights, bands and balls can be the basis for a variety of exercises. Now there are also compact elliptical trainers and treadmills that can be used from the seated position (think – watching television or working at a desk!). 
For resistance exercises, all you need is a small set of weights and/or a resistance band. And everyone should be able to find the space for a yoga mat to use for stretching.
Don't overlook the benefits of a simple jump rope. Jumping rope is a great way to get your heart pumping and burn off calories. And if you have a basement, you almost certainly have the room.
Easy indoor physical activity ideas
There are lots of ways to enjoy indoor physical activity without using any equipment at all.
Try some of these easy ideas:
Squats, push-ups, lunges and abdominal crunches. These traditional exercises require minimal space and are great for working specific body parts.
Use the stairs. A few brisk trips up and down stairs will soon get your heart pumping. Increase the speed for increased benefits. Make as many trips as you can. Change it up by using the bottom step for jumping or lunging exercises.
Set yourself a cleaning speed record. Many household activities burn up calories at a fast rate and do a good job of working different muscles. Increase the benefits by increasing the speed. Set a time target to clean the bathroom or vacuum the living room in record speed. This has the added advantage of getting household chores out of the way quickly.
Dance to some upbeat music. Ten minutes spent dancing to your favourite tunes morning and night can go a long way to meeting physical activity targets. And it's fun!
For 7 stretching exercises you can do at home, click here.
If you want to work on your balance, try these exercises.
As always, people with diabetes should always consult with a member of the diabetes healthcare team before starting a new exercise regime.