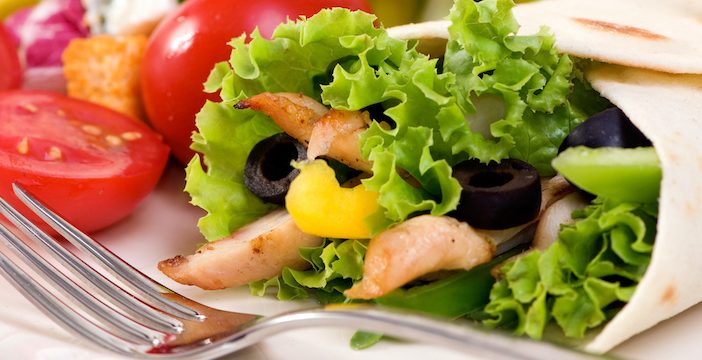 Meal planning begins at home
When life gets busy, one of the things that we often don't make time for is home cooking and homemade lunches in particular. Planning for and preparing healthy lunches is well worth the effort whether you are eating lunch on-the-run, at home, or at work. When you have diabetes, eating regularly throughout the day (with no more than 6 hours between meals) is important. You may also need snacks to keep you going until your next meal. A nutritious lunch will help avoid a "3-pm slump" and give you energy to get through the afternoon without craving unhealthy snacks.
Buying your lunch every day can mean less healthy choices, in addition to being expensive. Packing a homemade lunch will make it easier to eat smaller portions and take in fewer calories.
How many carbs are recommended for lunch?
Each of the delicious lunchtime meals below contains about 400-500 calories and 45-50 g net carbohydrate (total carb minus fibre). If you have a highly active lifestyle or heavy physical job, your calories and carbohydrates may need to be higher.
Using leftovers provides a great shortcut
Using tonight's dinner leftovers for tomorrow's lunch is a great way to save time. Use leftover Portuguese Churrasco Chicken for a Churrasco Chicken wrap, or Lentil and Brown Rice Pilaf for a Super Food Burrito bowl. Leftover Chipotle Chicken and Black Bean Chili served over rice travels well for a healthy hot lunch.
For more lunch time ideas, read Packed lunch ideas for a diabetes diet, and Tasty and healthy brown bag lunch ideas.
Here are 7 days of diabetes-friendly lunch ideas for you:
Day 1
1 serving Mashed Chickpea Egg and Avocado Toast
4 oz low fat flavoured yogurt
Nutritional values:
Carbohydrate 57g  Fibre 12g  Calories 512
Day 2
1 serving Fastest Chicken Vegetable Quinoa Soup
1 roast turkey sandwich: 60 g (2 oz) turkey, roasted, 2 slices whole grain bread
Nutritional values:
Carbohydrate 55g   Fibre 10g  Calories 428
Day 3
1 serving Almost Egg White Frittata with Peppers, Greens and Fresh Herbs
2 oz whole grain baguette with 1 tsp non-hydrogenated margarine
1/2 cup berries
Nutritional values:
Carbohydrate 57g   Fibre 7g  Calories 415
Day 4
Super Food Burrito Bowl: 3/4 cup Lentil and Brown Rice Pilaf
1/4 cup canned chick peas, drained and rinsed; 1/2 cup cubed sweet potato, cooked; 1/4 cup shredded cheddar cheese; 1 cup chopped kale; 1/4 cup salsa; 2 tbsp guacamole
Nutritional values:
Carbohydrate 56g   Fibre 11g   Calories 447
Day 5
Churrasco Chicken Wrap: 3 oz leftover Churrasco Chicken; 1 large whole wheat tortilla; chopped lettuce; 1 tsp olive oil; 2 tsp lemon juice; 1 tsp chopped garlic; 1 tbsp low-fat mayonnaise

Cut the chicken into bite-sized pieces. Combine lemon jice, oil, mayonniase, and garlic in a bowl. Add the chicken and lettuce to the bowl with the dressing; toss until well combined. Fill the wrap with the mixture and roll closed. Cut in half.

1 medium apple or pear
Nutritional values:
Carbohydrate 55g   Fibre 7g   Calories 544
Day 6
1 serving Salad in a Jar
4 oz low fat flavoured yogurt
Nutritional values:
Carbohydrate 54g   Fibre 9g   Calories 402
Day 7
1 serving Chipotle Chicken Black Bean Chili
Serve over 1 cup cooked brown rice
Nutritional values:
Carbohydrate 58g  Fibre 8g  Calories 446