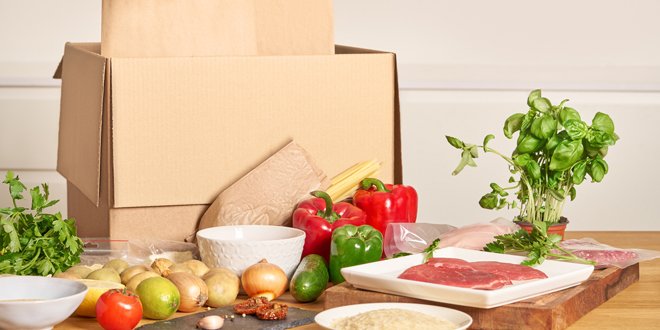 With the pandemic preventing us from eating out as much as we'd like, not only has home cooking been on the rise, but meal kit delivery to homes has also increased in Canada. These kits can make cooking at home easier, especially for time-strapped or novice chefs. Here's a guide to meal kit delivery and some things to consider when choosing a service for people with diabetes.
What are meal kit delivery services?
Customers who subscribe to these services receive recipes along with the pre-portioned and sometimes partially prepared food ingredients to make them. You typically sign up for the service online and can customize the frequency and number of meals you'll receive. You can also customize your order based on family size and dietary preferences (e.g., vegetarian or low-carb). Kits typically provide two to six portions of one to three meals per week, depending on the package you choose.
Here are some key foods to consider including when picking meal kit recipes. And here's a handy guide to help count the carbs in foods.
What are the advantages of meal kit delivery services?
These services take the guessing out of cooking as they provide step-by-step instructions and pre-portioned ingredients. This can be ideal when you don't have time to shop for ingredients or prep meals ahead of time. It's also a good way to help keep your portion size in check and reduce food waste. Read more on diabetes and portion control.
Owned and operated in Canada, plenty of these services deliver right across the country. Fortunately, you don't have to be home to receive them either, as ingredients are packaged with ice-packs to keep items fresh. You can also choose to skip weeks as needed.
Meal kit services can be exciting too, as they provide lots of new recipe ideas. This is a great way to try some new meals without having to invest in a bunch of ingredients you may never use again.
What are the disadvantages of meal kit delivery services?
While having pre-portioned ingredients is convenient, it also results in lots of excess packaging. That's why it's important to seek companies that use recyclable packaging. Be sure to keep delivery boxes for other uses on your end as well, if possible.
Meal kit delivery services can be expensive, and with pre-portioned amounts, they can result in fewer leftovers. Limiting delivery to once or twice a month instead of every week can make this a more affordable option. Pantry item staples are often not included, so you'll still need to stock up on things like olive oil, vinegar, salt and pepper.
Which meal kit delivery service should I choose?
Here's a look at some of the most popular meal kit services available in Canada, plus information on what they offer. Be sure to check out local meal kit delivery services in your area as well for more options.
| | | | |
| --- | --- | --- | --- |
| Brand | Price per serving | Availability | Best for: |
| Cook it | $8.88 ‐ $11.50 | PQ & ON | All sustainable packaging |
| Chef's Plate | $7.74 ‐ $8.99 | All provinces ex NFLD | Best value + meal variety |
| Goodfood | $9.28 ‐ $14.84 | All provinces ex NFLD | Weight loss meal plan, lots of variety |
| Hello Fresh | $9.69 ‐ $11.49 | All provinces | Lots of variety, including low-cal/low-carb recipes |
| LiveFit Foods | $5.95 – $12.95 | All provinces | No cooking (ready-to eat) |
Which are the best meal kits for people with diabetes? 
Here are some things to consider when choosing a meal kit delivery service for a diabetes diet:
Pick options that offer plenty of fresh ingredients, especially non-starchy vegetables (e.g., broccoli, cauliflower and cucumbers) that can keep your blood sugar levels in check.
Look for kits that provide nutrition information, including carbohydrate counts, for each recipe.
Ensure that they offer recipes that are easy to prepare in a short amount of time (planning diabetes-friendly meals can be stressful enough without adding complex recipes)
Look for meal choices that offer a good source of fat, fibre and protein, as well as lots of plant-based options
There's no doubt that meal kit delivery services can save you time in grocery shopping and food prep. In these already turbulent times, they can be a good way to take the stress out of healthy eating.