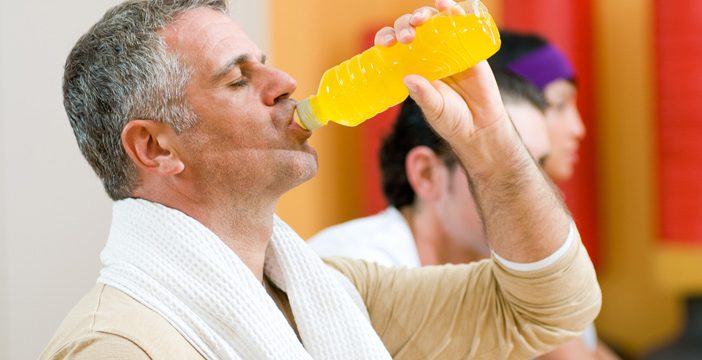 Sports drinks are fluid-replacement beverages. They were developed to provide a quick and convenient way to hydrate and fuel the body for optimal exercise performance. The following tips can help you decide if you may benefit from a sports drink.
What's in a sports drink?
The main ingredients in sports drinks are water, electrolytes and carbohydrates. Each one is important for your body during exercise.
Water and electrolytes, such as sodium and potassium, are needed for every cell, tissue and organ in your body to work properly. We need to replace the water and electrolytes that we lose through sweat and during illness.
Consuming carbohydrate during long duration exercise can help slow down how quickly the body runs out of its own stores of energy, so that you can keep it moving. The carbohydrate in sports drinks is sugar.
Sports drinks are made with a precise balance of water, electrolytes and sugar to make it easy for your body to absorb, without causing stomach upset during exercise.
Should I be drinking sports drinks?
If you answer 'yes' to all the following 3 questions, you might benefit from consuming sports drinks during exercise.
Do you participate in heavy or intense exercise for more than 60 minutes at a time? Examples of this type of exercise include long runs or bike rides, or playing hockey, soccer or football.
Do you sweat a lot? People might sweat more if they are wearing heavy sports equipment and when the weather is very hot and/or humid.
Do you find you need more energy to continue exercising but eating food would be uncomfortable, inconvenient or simply take too long?
If you answered yes to ALL those questions, then consider better alternatives to sports drinks. Water is your best choice for hydration. You can easily replace electrolytes and refuel with a well-balanced meal or snack.
Are there situations when someone living with diabetes might benefit from a sports drink?
People living with diabetes should follow the same nutrition guidelines for exercise as the general population. However, there may be more adverse effects of dehydration for those living with diabetes. Dehydration can have negative effects on blood sugar control. As well, people living with type 2 diabetes are more susceptible to heat-related symptoms. Still, drinking water regularly throughout the day and eating healthy food is the best way to ensure adequate hydration and electrolyte balance.
If you use medication that can cause low blood sugar, you might benefit from sipping a sports drink during aerobic exercise to help prevent a low from happening. Speak to your diabetes healthcare team to help decide if a sports drink might help with blood sugar management during exercise.
In addition, it may be helpful to consume a sports drink when you are sick and you are losing lots of fluids. If you are unable to eat your usual food, a sports drink can help you stay hydrated and replenish lost electrolytes while providing you with some carbohydrate for energy.
I understand that I might not need a sports drink, but what's the downside of choosing one?
Drinking unnecessary carbohydrate can lead to weight gain and higher blood sugars. Most sports drinks contain artificial flavours, food colouring and preservatives. Artificially sweetened sports drinks are unnecessary since fluid and electrolytes are ideally provided by water and healthy food. Water is cheap and doesn't require any packaging, so it is better for the environment.
Most people do not exercise intensely enough or long enough to need sports drinks. They are best for very active individuals and athletes. For most people, water is the best choice for hydration and natural foods are best for electrolyte balance and energy.