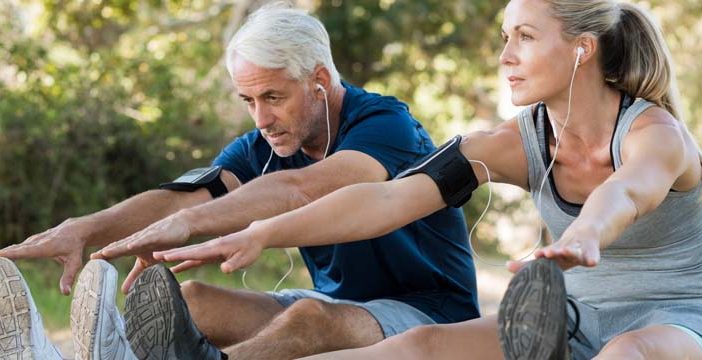 No doubt a healthcare professional has encouraged you to exercise to help manage your diabetes. It can be very confusing when you expect exercise to lower your blood sugar, but instead it rises. How can this possibly be beneficial for diabetes management?
Why do my blood sugars go up with certain types of exercise?
Glucose is the fuel that is used almost exclusively during intense exercise. Because the demand for glucose is so high, the body needs to retrieve some from its storage form of glucose (glycogen). Levels of certain hormones, including adrenaline (epinephrine), increase causing blood sugars to rise seven- to eight-fold. However, glucose utilization only increases three-to four fold. Ultimately, more glucose is produced than is used. Even for people who don't have diabetes, this causes a small rise in blood sugar during intense exercise that may persist for up to one or two hours. Insulin levels rise to bring blood sugar back to normal. However, people with type 2 diabetes may not have enough insulin, and their muscles may not use the insulin well enough, to bring sugars back down quickly. For people with type 1 diabetes, the physiological response is absent.
If high-intensity exercise will increase my sugars, shouldn't I avoid that type of exercise?
For people with type 2 diabetes, the short-term increase in blood sugar is unlikely to have a significant negative impact on overall blood sugar control. Although blood sugars may be higher initially, studies have shown that intense exercise increases insulin sensitivity and glucose uptake by the body's cells. This helps improve blood sugars after meals and reduces the amount of time that blood sugars are higher than 10 mmol/L.
For people with type 1 diabetes, high-intensity interval exercise appears to lead to fewer episodes of hypoglycemia, compared with continuous aerobic exercise. For those who are trying to maintain or lose weight, this means that extra carbohydrate likely won't be needed to help prevent exercise-associated hypoglycemia.
What types of exercise are considered high intensity?
Sports such as basketball and soccer, which have intense bursts of activity, are considered to be high intensity. Other activities include CrossFit, boot camps, spinning classes, high-intensity interval training or heavy resistance training.
How do I manage my sugars?
People with type 2 diabetes do not need to do anything to manage the short-term high blood sugar that might happen with intense exercise. Overall, the exercise will have a positive impact on blood sugar control.
People with type 1 diabetes might want to increase their insulin doses to manage the high sugars they see with intense exercise. However, this strategy can be risky: even though blood sugars may be high initially, there may be a chance of low blood sugar later on, so be sure to speak to your diabetes healthcare team before trying this.
Remember that with any type of exercise program, you may need to adjust your medications. Discuss your plan with your diabetes healthcare team.
Safety first
High-intensity exercise has many benefits, despite the confusing blood sugar results. This type of workout can be very hard, so be realistic about your fitness level before you start. Remember, there will still be fitness gains without all-out effort. According to Diabetes Canada, people with diabetes who are 40 years of age or older who wish to undertake very vigorous exercise, such as high-intensity interval training, should first be assessed by their healthcare team.