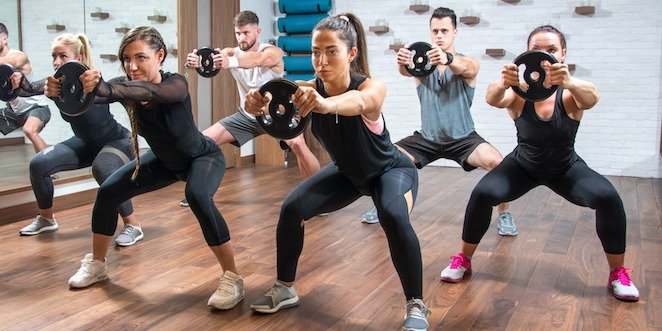 We've all heard about the benefits of regular exercise as part of overall weight management and good health. When you have diabetes, there's an additional benefit to all that physical activity: exercise can help you better control your blood sugar levels. Here's a look at the best exercises to control blood sugar, and how to incorporate more of them into your lifestyle.
First off, how does exercise affect my blood sugar?
Exercise helps control blood sugar levels in two key ways:
Exercise increases insulin sensitivity so your muscles can better use the insulin that's available. In fact, increased insulin sensitivity can last 24 hours or more after your workout.
Exercise causes your muscles to contract, which allows your cells to take up glucose for energy, regardless if insulin is available.
Not only is exercise good for controlling your blood sugar, moderate to high levels of physical activity have been linked to substantially lower rates of mortality in people with diabetes. All the more reason to get moving!
What are the best exercises for blood sugar control?
There are a number of exercises that can help you improve your blood sugar control. Ideally doing a combination of exercises will give you the most benefit. Some of the exercises with the most health benefits include:
Aerobic exercise: continuous bouts of exercise (e.g., jogging, cycling, hiking) that elevate your breathing and heart rate.
Resistance (anaerobic) training: brief, repetitive exercises using weights, resistance bands or your own body weight to build muscle strength. Choose approximately six to eight exercises that target the major muscle groups in the body.
 Interval training: short bursts of vigorous exercise (e.g., running, cycling) combined with short rest periods of rest up to three minutes in length.
Aquatic exercise: water activities can have similar health benefits to other exercise—and have the benefit of being easy on the joints for people with conditions such as osteoarthritis. Try brisk water walking or swimming laps.
Be sure to talk to your healthcare provider before starting any exercise regimen to determine what is safe for you. Also, consult a qualified exercise specialist when beginning resistance training to check for proper technique/posture.
What blood glucose range should you target when you exercise? 
People with type 1 diabetes, or those with type 2 diabetes using insulin, should be aware of their starting blood glucose concentrations, and should also have blood glucose monitoring equipment and snacks if needed to treat hypoglycemia. It is also a good idea to wear or carry some form of diabetes identification.
Blood glucose monitoring before, during, and after exercise is essential for everyone living with diabetes to help make adjustments and maintain stable and safe blood glucose levels.
Aerobic exercise (e.g. jogging, biking, swimming)
A reasonable starting range for most people doing aerobic exercise lasting up to an hour is 7-10 mmol/L. People's response to exercise is variable and depends on the duration and intensity of exercise, the starting blood glucose level, the person's aerobic fitness level, and the amount of insulin in circulation.
Anaerobic exercise (e.g.lifting weights, yoga, pilates) or high intensity interval training
Anaerobic exercise and a high intensity interval training session can be initiated with a lower starting blood glucose (5–7 mmol/L) because glucose concentrations tend to remain relatively stable and fall to a lesser extent than with continuous aerobic exercise, or they may rise slightly.
Blood glucose targets should always be individualized for your own needs. Check with your diabetes healthcare team before you start a new exercise program to determine your appropriate blood glucose targets.
How do I get the most benefit from the exercise I do?
The FITT Principle (Frequency, Intensity, Time and Type) is a good framework to follow in developing an effective exercise regimen.
Frequency: Set up a regular workout plan so that it can become part of your everyday lifestyle.  If you can't be active every day, exercise at least every other day for optimal blood sugar control. Find more tips on how to make an exercise plan. 
Intensity: How hard you work out will determine the benefits. Ideally, you should be exercising at a moderate to high level. Begin slowly and work your way up to a higher intensity level over time.
Time: How long you work out will depend on the type of workout and your fitness level, which should improve over time. Diabetes Canada recommends doing at least 150 minutes per week of aerobic exercise (over at least three days) and at least two sessions per week of resistance training.
Type: Doing aerobic or resistance exercises will improve blood sugar control. But doing a combination of both will have the most impact. Determine what activities you enjoy best so you're more apt to incorporate them into your regular workout routine.
Don't forget, safety first
Always remember to stretch before and after exercising to avoid injuries. You can find some good warm up and cool down exercises here.
Because exercise lowers blood sugar to varying degrees, it's a good idea to check your levels before, during and after exercising to see how your body reacts to different activities. Be sure to carry some form of fast-acting carbohydrate with you in case you have to treat low blood sugar quickly.
If you do the same exercises regularly, you'll eventually become in tune with your own blood sugar patterns and can plan accordingly. Find more tips for safely exercising with diabetes.
Making exercise a regular part of your life will have a positive impact on your health—and your blood sugar levels. It's one of the best things you can do to manage and live well with diabetes.